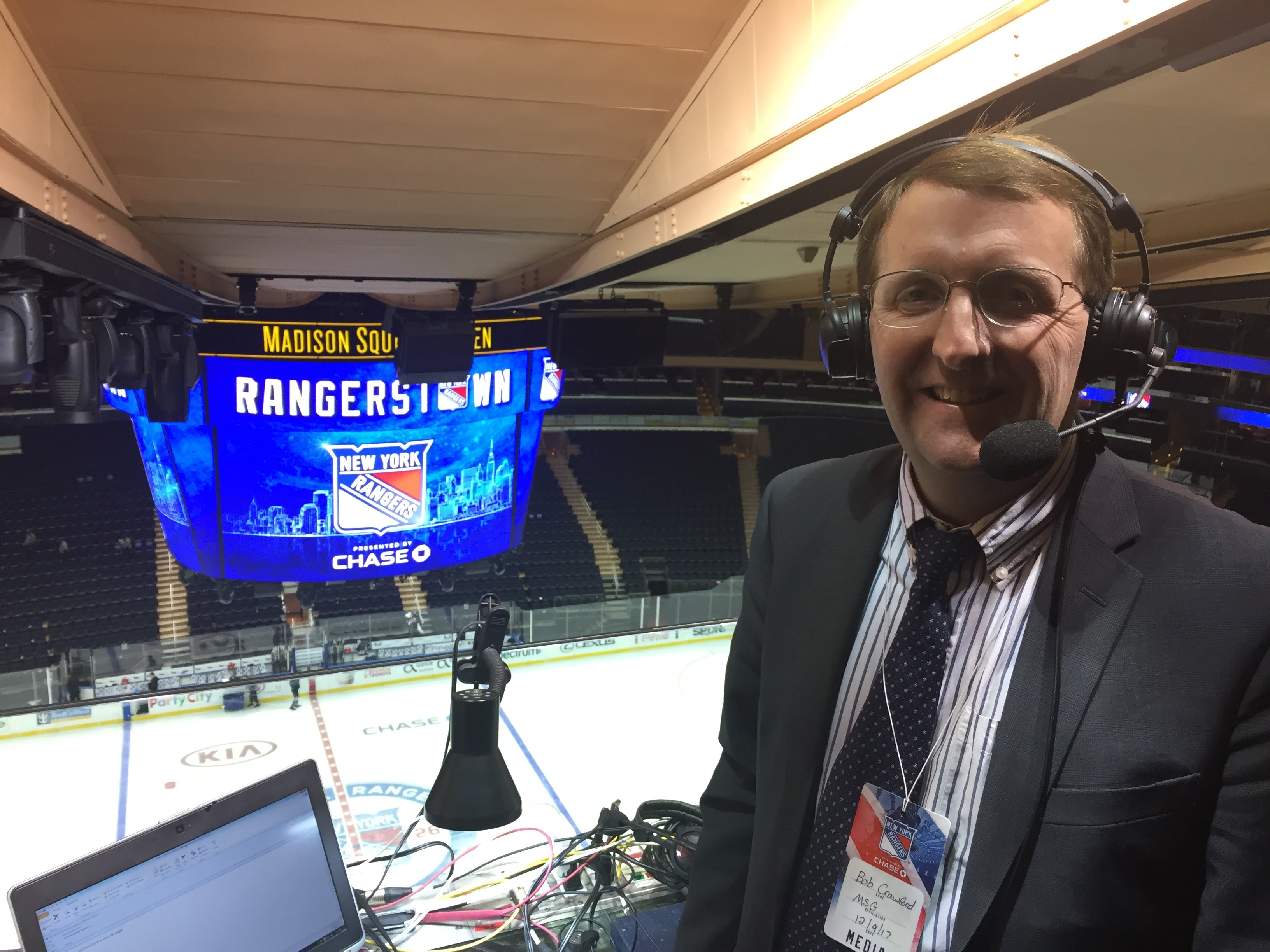 A Q&A with Bob Crawford
Dec 12, 2017
by Nicole Caporaso
On Saturday night, longtime Hartford Wolf Pack play-by-play announcer, Bob Crawford, finally got his NHL call-up. After 21 years with the team, and nine more working in the AHL, Crawford was asked to live out his dream as he was given the opportunity to call a New York Rangers game from Madison Square Garden.
With his family listening at home, Crawford went live on the air for a dominating 5-2 Rangers win over the New Jersey Devils.
Q: How did it feel to get the call on Monday asking you to do play-by-play for the game?
"I got a call out of the blue from MSG Radio and they asked me if I wanted to do it, and I almost couldn't believe it. I had been hoping for so long to get the chance to do a Rangers game and to have it actually happen was surreal.
I wanted to make sure that somebody wasn't pulling a prank on me before I started telling my wife, kids and parents. I can't think of a bigger thrill in my entire career than to get that call and to know I was on their minds and they were going to give me a chance."
Q: What went into preparing for Saturday?
"I know the Rangers players fairly well and I know a lot of the Devils players, but I went into a deeper dive into their career stats and season statistics this year. I also made sure I watched a couple Rangers games on television, and I was also able to catch a Devils game on replay on NHL TV. The Rangers public relations department was also great about getting me all the information they normally disseminate to anybody who's covering a game."
Q: Is there a specific moment on Saturday that was the highlight of your experience?
"I had previously sort of seen the back of house stuff, as far as the press room and that kind of thing, but I had never really been to the new press bridge, which is just fabulous. It has a great view, and it's a great facility. I was like a wide-eyed little kid taking all that in.
I think finally getting on the air might have been the top part of it all because as long as I've done this you're always nervous about how you're going to do when it's actually the big time. There's a lot of anticipation. I was really lucky with how the game went because there were plenty of Rangers goals and some really good saves."
Q: What are the biggest differences between calling a Wolf Pack game and a Rangers game?
"The biggest difference is that at the AHL level, you kind of do everything for yourself. You're sort of a statistician, a play-by-play guy on the road, and a color guy all wrapped up into one. At the Rangers level, there's people that do all of that – there's a producer with all the details, there's a sound guy that handles all the technical stuff, there's a guy running the game back at the station, you have a really experienced color man by your side, and people are feeding you statistics all the time.
At the NHL level, the game itself is a little faster and it's also a little less scrambled, so you can anticipate plays a little more. I've followed the Rangers for 20-something odd years, so I had a great level of familiarity there and once you get into the flow, you're just reacting to the play, and that's what I've always done. It seemed to take forever to actually get on the air and then once I started doing the play-by-play it seemed like it was over in a heartbeat."
Back to All