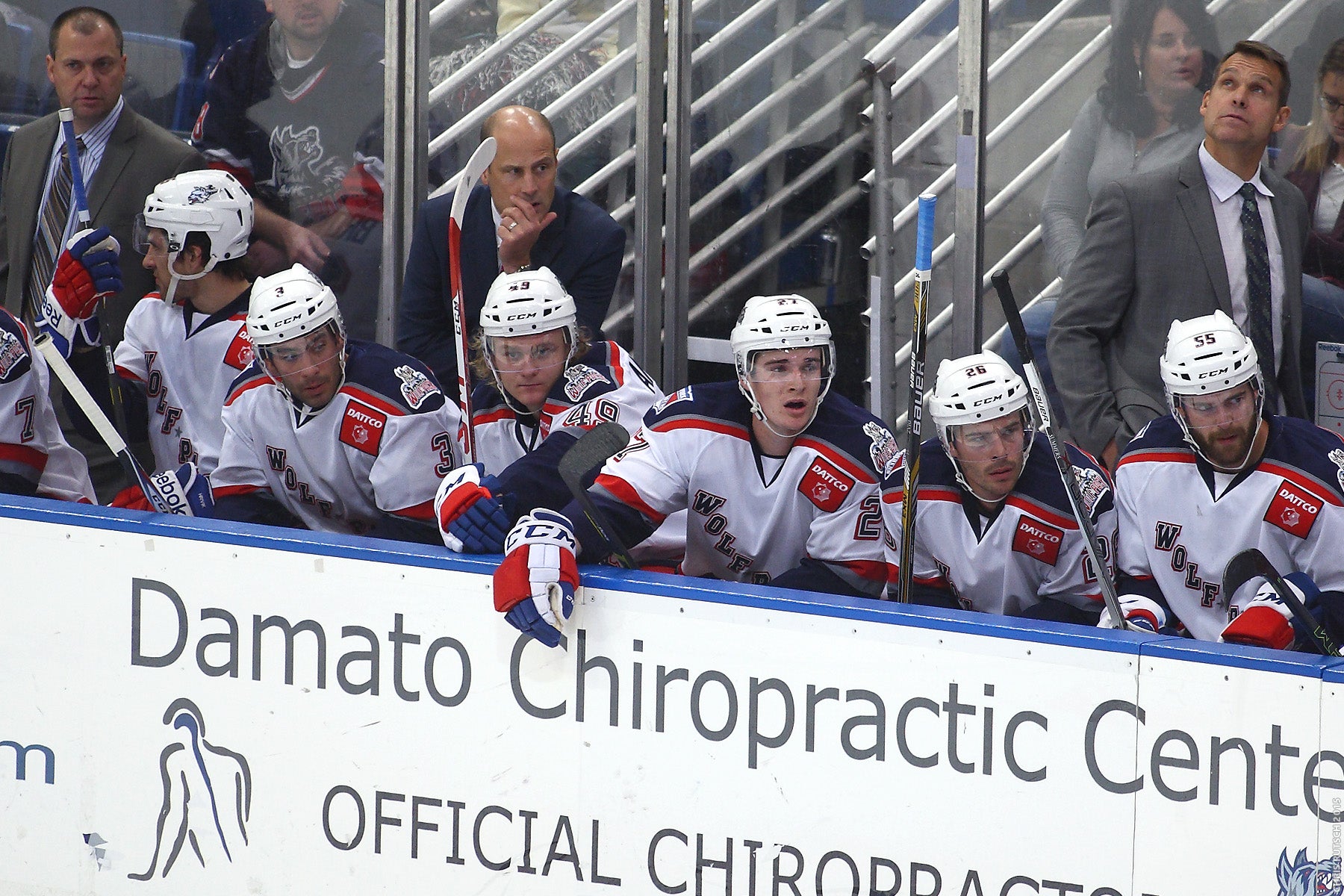 2015-16 was a Season of Growth for Pack
Apr 29, 2016
By Bob Crawford
As Wolf Pack head coach Ken Gernander and his staff began their off-season last week, they were still dealing with the sting of falling just short of a 2015-16 playoff berth. The Wolf Pack made a strong playoff push, and kept their hopes alive as late as the final weekend of the regular season, but ultimately ended up an agonizing two points shy of a postseason spot.
The ultimate result of the season is certainly the source of significant frustration, but there are definitely some positives to be taken from the second half of the year. After January 8, at which point the Wolf Pack were 14-19-2-0 and in last place in the Atlantic Division, the team played nearly .700 hockey, going 27-13-1-0 in their last 41 games.
That is a point of pride for Gernander, but also makes it that much more vexing that the club was not able to get over the playoff hump.
"We can take some solace in the fact that I think we did grow and develop as the season went along," the Wolf Pack bench boss said recently. "It is a development league, so that's one of the markers we use as far as evaluation. We did grow, and it's still a little bit of a sore spot that we didn't make the playoffs."
Growth is obviously a key word in a player-development environment, and Gernander feels that his collective group increased its rate of progression as the season went on, and that was the key to the club's second-half surge.
"Some of our younger players grew," he said. "We had a young defensive corps, but I think they were one of the strengths of our team at season's end. Our goaltending kind of came together there at the end, after a little bit of an up-and-down start, and I think we added a couple of players that created some depth for us up front that were helpful, and part of our success."
The biggest of those additions was Nicklas Jensen, whose first game with the Wolf Pack after being acquired in a trade with the Vancouver Canucks organization was January 9. The Wolf Pack beat the Bridgeport Sound Tigers that night, 5-4, to begin what would turn out to be an eight-game winning streak, and the turnaround of their season.
Jensen would amass solid numbers for the Wolf Pack the rest of the way, 15 goals and 25 points in 41 games, but the team's record after he joined the group would seem to indicate that his impact went way deeper than that. To Gernander, that just highlights what a big difference one quality player can make to a team in the game of hockey.
"Go through any NHL roster, I'm sure there's one or two players that they would really hate to see lost for a big game, or a big series, or anything like that, and the same holds true here," he said. "You've got a couple of players who certainly can make a difference. They can either shoulder a big part of the burden on their own, or certainly complement players to the point where they make everybody around them better. You can't underestimate the impact that certain players can have on a team."
By the end of that strong second-half run, the Wolf Pack had compiled the eighth-best goals-against-per-game figure (2.62) in the AHL, but the club was never able to develop quite enough of a consistent finishing touch at the other end of the ice, scoring only 2.66 goals-per-game, which ranked them 25th out of the 30 AHL teams.
"If we're going to look for shortcomings, it was offensive numbers and offensive output," Gernander said. "The other numbers are certainly in the ballpark in terms of where you'd like to finish. Unfortunately we just didn't score a lot of goals or generate a lot of offense."
One pleasant surprise on offense was the production of Chad Nehring, playing his first full season of AHL hockey at age 28 and in his fifth year as a pro. After contributing four goals and 12 points in 53 games with the Wolf Pack last year, Nehring led this season's Hartford club in both points and goals, with 22-26-48, and played in all 76 games.
"That makes for a nice story, too," said Gernander of Nehring's ascent. "He came to us last year on an AHL tryout, and we asked him to play a role, kill penalties and take big faceoffs. He really embraced the role and became a very important part of our team coming down the stretch and in the playoffs, because he was so reliable defensively, and this season just continued to grow his game and grow his game, to the point where he's a pretty solid two-way player and eventually ended up leading our team in scoring, which is a real feather in his cap."
Another good story surrounding the Wolf Pack was the finish of Marek Hrivik's season, which saw the Slovakian import get his first shot at NHL action with the parent New York Rangers, after nearly 250 games in the AHL. Hrivik ultimately logged five games with the big club, generating one assist and almost universally positive reviews.
"Hopefully Marek's a bit of a late bloomer, and where he left off this season, that's hopefully where he set the bar and his play never dips below that again, he just continues to grow from there," Gernander analyzed. "That all remains to be seen, but he was certainly a real reliable player for us, an important part of our team, and it was great to see him get rewarded and do as well as he did at the end of the season."
Prior to the 2015-16 season, only one Wolf Pack goaltender had ever chalked up a 30-win season, and that was Jason LaBarbera, who did it twice, winning a franchise-record 34 games in 2003-04 and 31 more the following year. Magnus Hellberg, all of whose previous AHL experience had been in the Western Conference with the Milwaukee Admirals, joined LaBarbera in that exclusive club this year, going 30-20-3, with a 2.40 goals-against average, a 91.8% save percentage and three shutouts in 53 Wolf Pack games.
"We didn't know him real well coming in here," Gernander said of Hellberg, "coming from Milwaukee, wasn't a goalie we were real familiar with, but he just took the reins there toward the end of November and really played some good hockey for us."
Hellberg, a trade acquisition by the Ranger organization last summer from the Nashville Predators, finished the 2015-16 campaign third among AHL goaltenders in wins, minutes-played (3,098) and saves (1,383), and had the sixth-best GAA in the league.
Few goaltenders can be successful without plenty of help from their defense, and the work of the defense corps was a consistent positive for the Wolf Pack throughout the season. The top six for much of the season consisted of Chris Summers, the "grizzled vet" of the group at age 28, rookies Brady Skjei , Ryan Graves and Calle Andersson, second-year pro Mat Bodie and third-year man Tommy Hughes, with Raphael Diaz, who endured an injury-marred season, seeing significant time as well. Assistant Coach Jeff Beukeboom, who runs the Wolf Pack defense, rotated the pairings for much of the season, ensuring that all of his blueliners were comfortable playing alongside whomever they were slotted with.
"They shuffled around a bit, but I think we had a good mix of lefties, righties, veterans, younger kids, bigger guys, puck movers," Gernander said of the blueline crew. "Beuk (Beukeboom) did a good job balancing them, or meshing them together, and I think they were one of our team's strengths."
Bodie, despite his relatively tender pro experience level, became a trusted leader on the backline, and had the honor of being named the Wolf Pack's official full team leader March 2. That was when the 26-year-old former NCAA champion at Union College had the captain's "C" sewn on his jersey, after Ryan Bourque was traded.
"It's only his second year, but he does have a certain level of maturity to him," Gernander said of Bodie. "He's 26, he's been around and certainly has a pretty good resume, with a national championship on his record and being a captain at Union. So he has a lot of experience to draw upon. Obviously a very important part of our team, and really picked up the torch there when Ryan was traded, and we didn't really miss a beat, I think, from a leadership standpoint."
In addition to Hrivik's becoming part of the Ranger mix near the end of the season, Skjei also found himself on an extended tour of NHL duty as the year wound down. The University of Minnesota product and 2012 Ranger first-round pick was recalled April 5, after Blueshirt captain Ryan McDonagh was injured, and stayed the rest of the season, seeing action in each of New York's last three regular-season games and all five Ranger playoff contests.
"I think he made real good strides," was Gernander's comment on the rookie season of his fellow ex-Gopher. "To be able to compete and play where he did at the end of the season is ultimately the goal of your development club, to get him to the next level. And hopefully that's just a starting-off point for him and his game continues to grow there (with the Rangers). If he shows the same growth at that level that he did this level, he picked things up real quickly, he's going to be a good player for a long time to come."
Not far behind Skjei on the development curve was Graves, who at 20 years old was the Wolf Pack's youngest player. A fourth-round draftee by the Rangers in 2013, Graves carried the momentum from a fine last Junior season in the QMJHL into this year, and used his hard shot to lead Wolf Pack defensemen in goals with nine.
While Graves' number did not come up for an NHL taste, Gernander was happy with the 6-4, 220-pound youngster's progress.
"I think defense is a little bit tougher position than forward, and your mistakes seem to stand out a bit more," he said, "since you're the last line of defense before the goaltender. And that being said, I thought he (Graves) did a real good job this season defending, and actually, for a first-year guy, generated some offense for us as well. Pretty solid two-way effort, pretty good season for him."
So there are more than a few positives for the organization to hang its hat on, and, in a bit of a mixed blessing, much time to break down the good and the bad, and to use that analysis to plan the future. According to Gernander, that process has started in earnest already.
"It's a full-time deal," he said. "We're still trying to recap and learn, assess, from this current season, where we could be better, what things we did well, where we go from here. Then it becomes time to turn the page and start looking forward, and put all that into good practical use."
Back to All