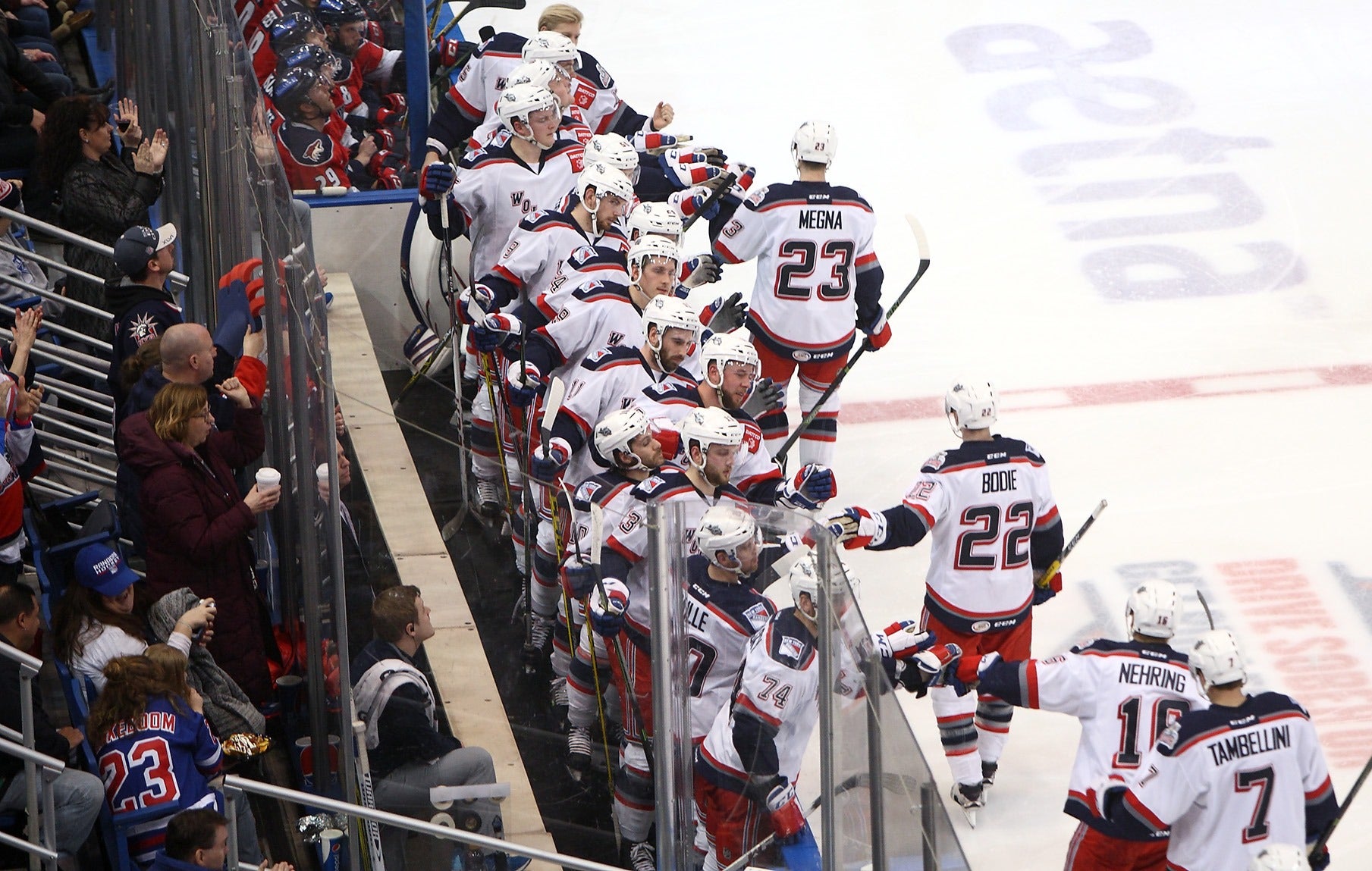 Pack Knock off Falcons, 6-2, in Last Regular-season Home Game
Apr 9, 2016
By Chuck Packard
Chris Brown and Jayson Megna had a goal and an assist apiece Saturday night at the XL Center, to lead the Wolf Pack to a 6-2 win over the Springfield Falcons in the Wolf Pack's last home game of the regular season.
Now 39-30-3-0 for 81 points on the year, the Wolf Pack remain four points out of the last playoff spot in the Eastern Conference. Saturday's win gave Hartford a sweep of a home-and-home set with the Falcons, whom the Wolf Pack defeated 7-3 Friday night in Springfield.
MacKenzie Skapski made 28 saves in the Wolf Pack net Saturday, in his first AHL appearance since December 18, and Luke Adam, Daniel Paille, Nick Tarnasky and Chris Summers also scored for Hartford. Chad Nehring and Adam Tambellini had two assists apiece. Craig Cunningham scored both Falcon goals, and his linemates Domenic Monardo and Ross Mauermann assisted on both. Adin Hill, making his pro debut in the Springfield net, made 22 saves.
The Wolf Pack started the scoring early, 4:21 in, with a goal from Adam, off a pass from Kodie Curran. Adam's 11th of the year was also assisted by Megna.
"Not just one, but two sources of net front disturbance for the goalie," Wolf Pack head coach Ken Gernander said of the game's first goal, "and good shot and good shot selection."
Springfield fought back with a goal 13:23 into the first, scored by Cunningham, his 20th of the season.
The Wolf Pack stuck back 29 seconds into the second with a goal from Megna, assisted by Chad Nehring and Mat Bodie.
Started by a power-play goal with Springfield's Dysin Mayo off for high-sticking, the Wolf Pack went on a three-goal streak in a span of 1:19. Chris Brown scored the first of the three, and the eventual game-winner, 13:31 into the period, assisted by Bodie and Tambellini.
"They were both two big games for us, so we had to keep pushing," Gernander said of the two wins over Springfield, "and I certainly think it's helped our confidence as far as being successful offensively. Hopefully we can carry it through to the end of the season."
The second goal of the trio was scored 25 second later by Paille. His sixth of the season was assisted by Bodie and Tambellini. The third goal of the run was scored with 5:10 left on the clock by Tarnasky, assisted by Nicklas Jensen. It was Tarnasky's 15th goal of the season.
The Wolf Pack finished their scoring 3:38 into the third, on Summers' second goal of the year. He was assisted by Nehring and Tambellini.
Springfield got that one back at 10:06, with Cunningham scoring his second of the game, tipping in a centering pass from Monardo.
"Fan appreciation night, last home game, so you want to put your best foot forward," said Bodie, the Wolf Pack captain. "Skapski was great for us tonight, made some really big saves when the score was still close and gave us the opportunity to blow the game wide open."
The Wolf Pack now play their last four games of the regular season on the road, starting Sunday afternoon in Portland, where they visit the Pirates for a 3:00 PM game. All of the action of that battle can be heard live on News Radio 1410 WPOP, and on-line at www.newsradio1410.com and iHeartRadio. Video streaming is available at www.ahllive.com.
To speak with a Wolf Pack representative about season or group tickets, or any of the Wolf Pack's many ticketing options, call (855) 762-6451, or click here to request more info.
Springfield Falcons 2 at Hartford Wolf Pack 6
Saturday, April 9, 2016 - XL Center

Springfield 1 0 1 - 2
Hartford 1 4 1 - 6

1st Period-1, Hartford, Adam 11 (Curran, Megna), 4:21. 2, Springfield, Cunningham 20 (Mauermann, Monardo), 13:23. Penalties-No Penalties

2nd Period-3, Hartford, Megna 14 (Bodie, Nehring), 0:29. 4, Hartford, C. Brown 6 (Bodie, Tambellini), 13:31 (PP). 5, Hartford, Paille 6 (C. Brown, Nieves), 13:56. 6, Hartford, Tarnasky 15 (Jensen), 14:50. Penalties-Tambellini Hfd (tripping), 3:58; Shinnimin Spr (delay of game - faceoff violation), 4:04; Mayo Spr (high-sticking), 12:36.

3rd Period-7, Hartford, Summers 2 (Tambellini, Nehring), 3:38. 8, Springfield, Cunningham 21 (Monardo, Mauermann), 10:06. Penalties-Mermis Spr (fighting), 14:38; Tarnasky Hfd (fighting), 14:38.

Shots on Goal-Springfield 11-7-12-30. Hartford 8-13-7-28.
Power Play Opportunities-Springfield 0 / 1; Hartford 1 / 2.
Goalies-Springfield, Hill 0-1-0 (28 shots-22 saves). Hartford, Skapski 3-6-0 (30 shots-28 saves).
A-8,322
Referees-Ryan Hersey (8).
Linesmen-Glen Cooke (6), Luke Galvin (2).
Back to All