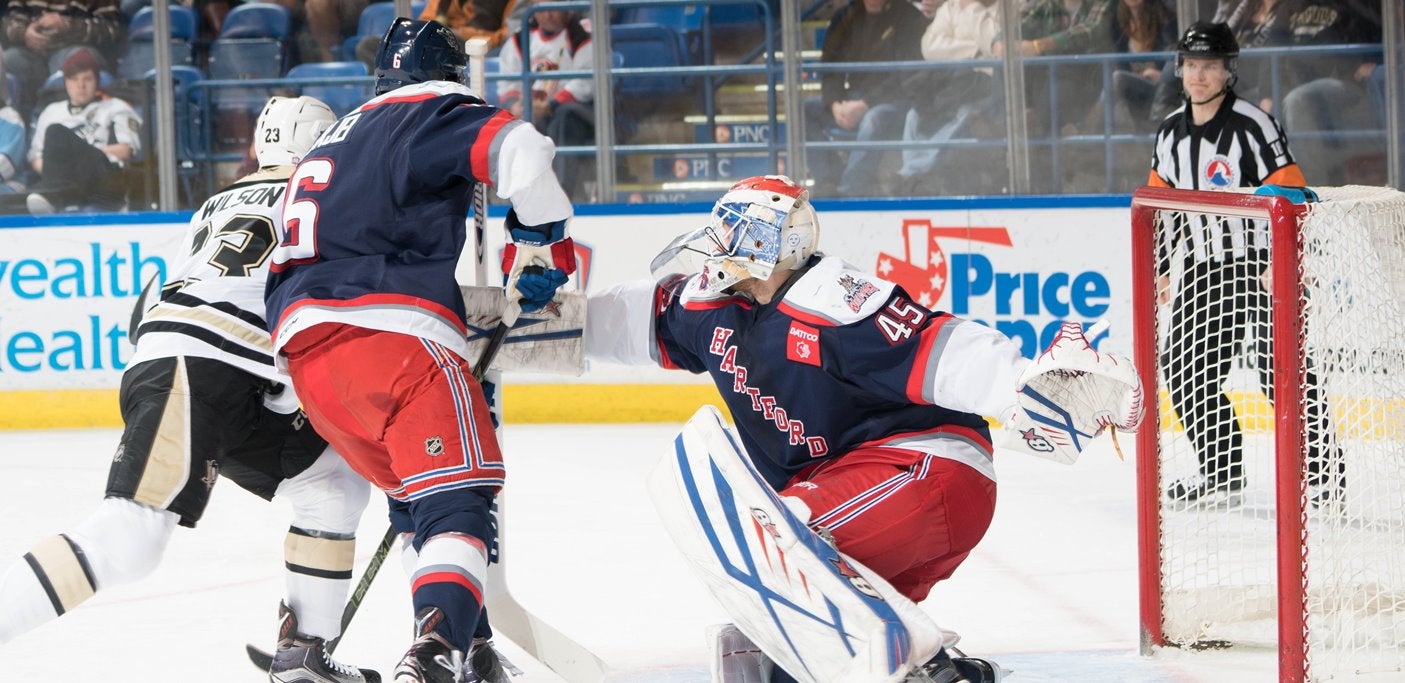 Wolf Pack Knock off AHL Leaders, 3-1
Dec 5, 2015
(Photo courtesy of Wilkes-Barre/Scranton Penguins)
Jayson Megna had a goal and an assist, and Magnus Hellberg made 28 saves in his return from injury, Saturday night at the Mohegan Sun Arena at Casey Plaza in Wilkes-Barre, PA, in a 3-1 Wolf Pack victory over the AHL-leading Wilkes-Barre/Scranton Penguins.
The win was the second straight for the Wolf Pack, who defeated the Hershey Bears 4-3 in a shootout Friday night at home, after a stretch in which Hartford had won only two of its previous 12 games. A Wolf Pack power-play unit that came into Saturday's game clicking at only 9.3% scored twice in seven opportunities.
"It was nice to get a couple of goals on the power play," Megna said. "It's something we've been working on a lot, so it was nice to see some of the work pay off there.
"I thought Hellberg played great tonight, I thought we played very effectively as a team on defense. We got to our game quick, we got pucks behind them, and the end result was what we were looking for."
Hellberg hadn't seen any action in five games, since suffering a lower-body injury in a game November 20 in Utica. Adam Tambellini also scored for the Wolf Pack, and Chad Nehring added an empty-netter. Marek Hrivik had two assists.
Conor Sheary scored the only goal of the game for the 16-4-0-0 Penguins, who have now lost back-to-back games for the first time on the season.
The first two goals of the game came in a span of 36 seconds late in the first period, and the second of those, at the 18:17 mark triggered Wilkes-Barre/Scranton's "Teddy Bear Toss". While rink personnel cleared the ice of the soft toys tossed, the officials elected to send the teams to their locker rooms and take the intermission break at that point.
Megna, a former Penguin, clicked on a Wolf Pack power play at 17:41 to open the scoring. With Reid McNeill in the penalty box for interference, Hrivik fed a cross-ice pass from the right-wing boards to the opposite circle, and Megna one-timed it from there underneath the pads of Wilkes-Barre/Scranton goaltender Tristan Jarry (22 saves).
The Penguins responded quickly, though, with Sheary's goal bringing out the teddy bears. Sheary fired a shot from high in the slot that hit the top of Hellberg's catching glove and dropped behind him into the net.
After the re-start, the Penguins finished the first period with a 12-7 shots advantage. They then outshot the Wolf Pack 13-7 in the second, but Hartford got the only goal of the middle frame.
That was a second Wolf Pack power-play tally, scored by Tambellini at 14:40. Hrivik snapped a shot from the top of the right circle and Tambellini deflected it past Jarry.
The Wolf Pack then stifled the Penguins in the third period, outshooting their hosts 11-4 and icing the game with Nehring's empty-net goal at 18:33. Ryan Bourque got the puck up the right side to Nehring, who hit the vacated cage from the Penguin blue line just as Jarry got off the ice.
The win improved the Wolf Pack's record to within one game of the .500 mark, at 10-11-2-0 for 22 points.
The Wolf Pack finish up a three-game weekend Sunday in Bridgeport, taking on the Sound Tigers at 5:00 PM. All of the action of that battle can be heard live on News Radio 1410 WPOP, and on-line at www.newsradio1410.com and iHeartRadio. Video streaming is available at www.ahllive.com.
The Wolf Pack's next home action is Saturday, December 12, when Bridgeport makes its first visit of the season to the XL Center. Faceoff is 7:00, and it's "Star Wars Night". Fans can hang out with their favorite Star Wars characters and win some exciting Star Wars prizes.
Tickets for all 2015-16 Wolf Pack home games are on sale at the Agera Energy Ticket Office at the XL Center, on-line at www.hartfordwolfpack.com and by phone at (877) 522-8499.
To speak with a Wolf Pack representative about season or group tickets, or any of the Wolf Pack's many ticketing options, call (855) 762-6451, or click here to request more info.
Hartford Wolf Pack 3 at Wilkes-Barre/Scranton Penguins 1
Saturday, December 5, 2015 - Mohegan Sun Arena at Casey Plaza

Hartford 1 1 1 - 3
W-B/Scranton 1 0 0 - 1

1st Period-1, Hartford, Megna 6 (Hrivik, Bodie), 17:41 (PP). 2, W-B/Scranton, Sheary 5 18:17. Penalties-O'Neill Wbs (closing hand on puck), 10:14; Gibbons Hfd (interference), 11:45; McNeill Wbs (interference), 16:16.

2nd Period-3, Hartford, Tambellini 6 (Hrivik, Megna), 14:40 (PP). Penalties-O'Donnell Hfd (tripping), 9:13; Mouillierat Wbs (tripping), 9:56; Oleksy Wbs (slashing), 13:36; Graves Hfd (roughing, fighting), 17:03; Oleksy Wbs (roughing), 17:03; Uher Wbs (instigating, fighting, misconduct - instigating), 17:03.

3rd Period-4, Hartford, Nehring 7 (Bourque), 18:33 (EN). Penalties-Sundqvist Wbs (elbowing), 0:33; Nehring Hfd (unsportsmanlike conduct), 6:45; Andersen Wbs (boarding), 8:59.

Shots on Goal-Hartford 7-7-11-25. W-B/Scranton 12-13-4-29.
Power Play Opportunities-Hartford 2 / 7; W-B/Scranton 0 / 3.
Goalies-Hartford, Hellberg 7-6-0 (29 shots-28 saves). W-B/Scranton, Jarry 6-1-0 (24 shots-22 saves).
A-6,224
Referees-Tim Mayer (19), Michael Mullen (18).
Linesmen-Matt McNulty (26), Luke Murray (92).
Back to All