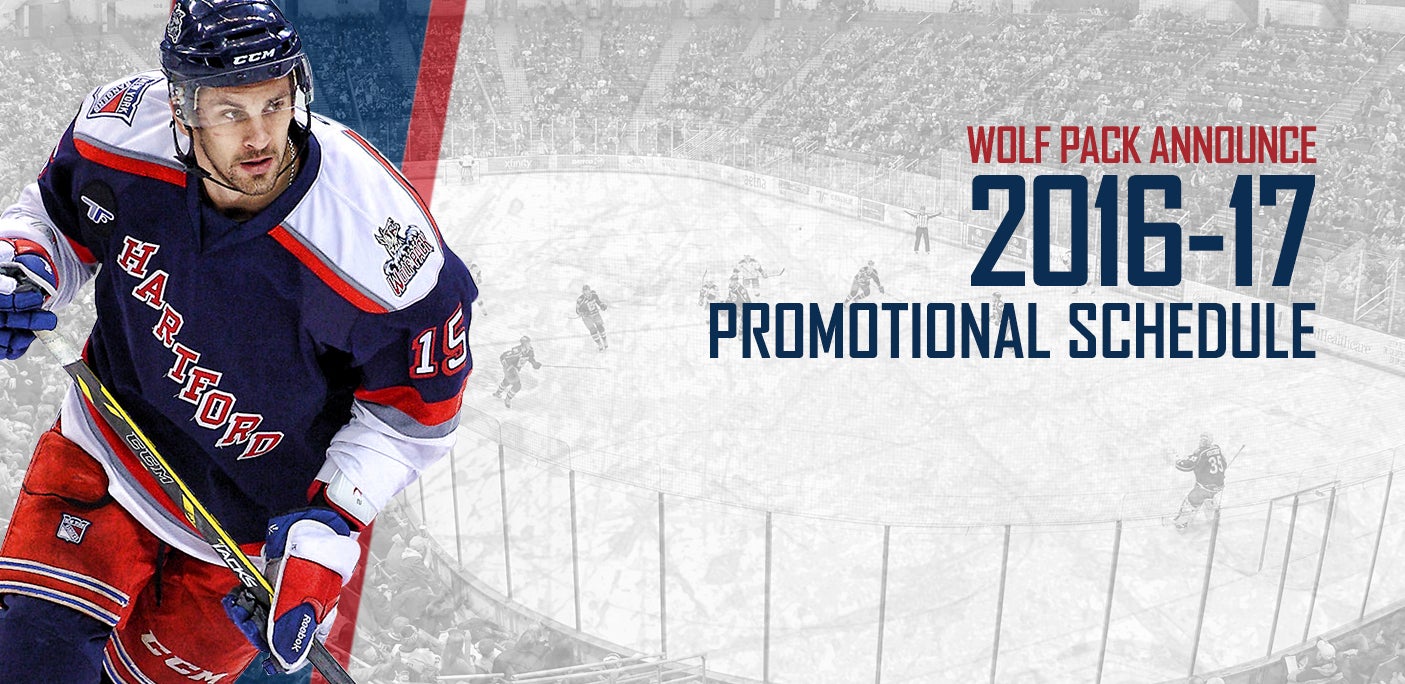 Wolf Pack Announce Promotional Schedule
Sep 21, 2016
Spectra, operators of the XL Center and the Wolf Pack, today revealed the schedule of game-night promotions highlighting the Wolf Pack's 2016-17 20th-anniversary AHL season.
Once again this year, Wolf Pack fans can take advantage of two special promotions throughout the season. The Pack's ever-popular Friday-night food and beverage discount is back, as at every Friday-night Pack home game, fans can enjoy $1 hot dogs and $2 beers through the start of the second period. Also returning are the Wolf Pack's "Click It or Ticket" Family Value Packs. Those are available for all of the Pack's Sunday and Wednesday home games, as well as the one Tuesday date, December 27, and include two tickets, two hot dogs and two soft drinks, all for only $40. In a new wrinkle this season, at every Sunday Wolf Pack home game, the first 2,000 fans will receive a "hockey bingo" card. The spaces on these cards contain possibilities that might happen in the game, and if they do, fans can fill in the spaces to win Wolf Pack bingo prizes.
In addition to those consistent features, the Wolf Pack will again be offering fans a bevy of single-night promotions and giveaways in 2016-17. The first of those is at the Pack's season opener Friday, October 14, a 7:15 PM contest at the XL Center vs. the St. John's IceCaps. The first 5,000 fans into that game will take home a Wolf Pack magnetic schedule, courtesy of CT-DOT.
To view the full 2016-17 Wolf Pack promotional schedule, click here.
Tickets for the Wolf Pack's October 14th opening night, and all Wolf Pack 2016-17 home games, are on sale now at the Agera Energy Ticket Office at the XL Center, on-line at www.hartfordwolfpack.com and by phone at (877) 522-8499.
Season ticket information for the Wolf Pack's 2016-17 AHL season can be found on-line at www.hartfordwolfpack.com. To speak with a representative about all of the Wolf Pack's many attractive ticketing options, call (855) 762-6451.
Back to All