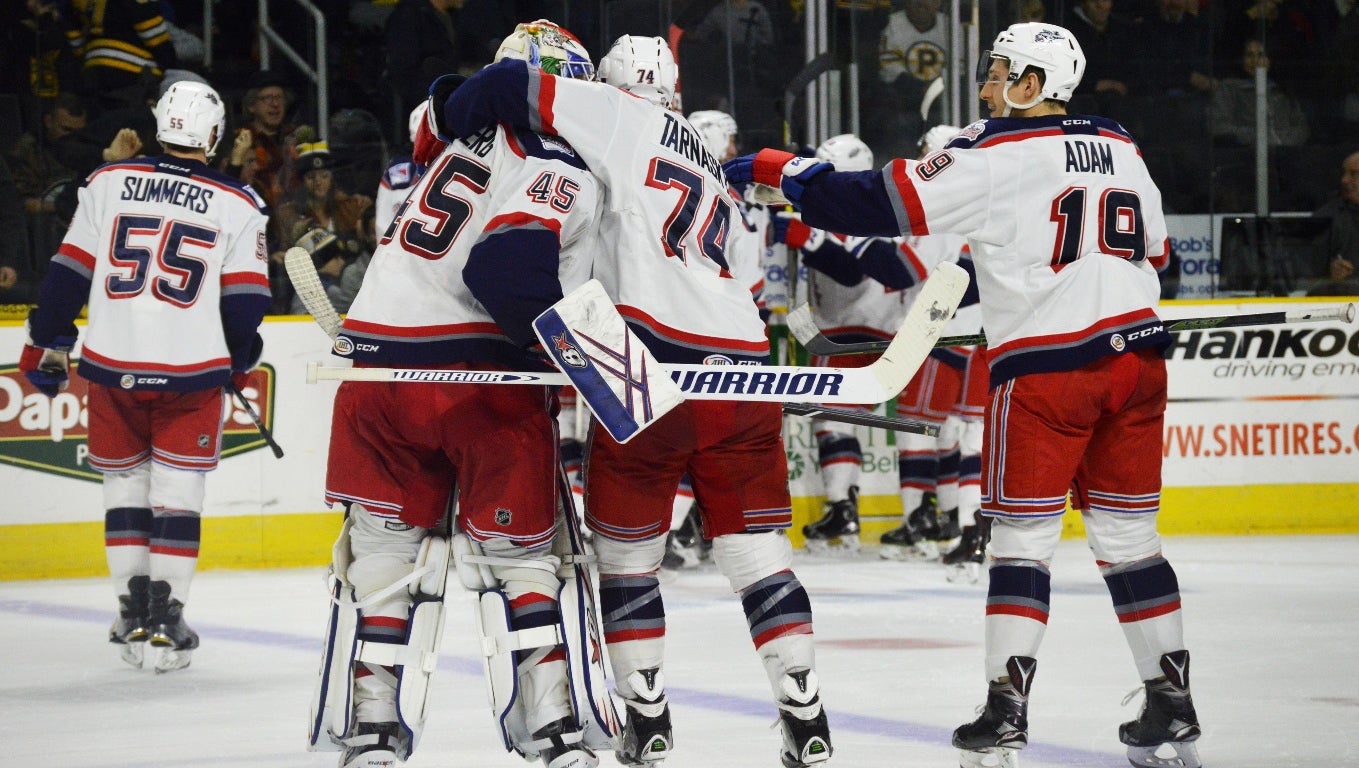 Skjei's OT Beauty Gives Pack Fifth Straight Win
Jan 18, 2016
(Photo courtesy of Providence Bruins)
Brady Skjei's overtime goal, on a scintillating solo rush, lifted the Wolf Pack to a 3-2 win over the Providence Bruins Monday afternoon, in a holiday matinee at the Dunkin' Donuts Center.
Flushed out from behind his own net by the Bruins' Seth Griffith, Skjei skated the puck the length of the rink, flying past two Providence defenders and ripping a shot into the top corner past the catching glove of Bruin goaltender Zane McIntyre.
"In 3-on-3 there's a lot of ice out there, and the guy chased me behind the net, so I tried to use my speed and the ice just opened up a little bit, and I took advantage of it," Skjei said of his game-winner, which helped the Wolf Pack to its team season-high fifth straight win.
Skjei's heroics came after the Bruins had tied the game with only 51 seconds left in the third period, and McIntyre on the bench for an extra attacker.
"We've got a lot of faith in our guys right now, and we're putting a good stretch together right here," Skjei said. "So everyone's confident, and that was a little bump in the road, but I think the bench was still pretty focused and wanted to get the win."
Jack Combs had the first two Wolf Pack goals in the game, and Marek Hrivik assisted on both. Magnus Hellberg made 29 saves in his fifth straight start. Griffith and Anton Blidh scored for Providence, and McIntyre stopped 23 Wolf Pack shots
The Wolf Pack were outshot 12-9 in the first period, but got the period's only score at 4:38, on Combs' first goal in a Wolf Pack uniform. After Hrivik took the puck away in the Providence zone, Nicklas Jensen fired a hard shot from high in the slot just wide. Combs played the carom off the end boards and slipped the puck past McIntyre to his left.
The two teams then traded goals in a span of 29 seconds early in the second period.
First, the Bruins evened the score at one at 4:21 of the second, on Blidh's ninth goal of the season. Providence broke 3-on-2 into the Wolf Pack zone, and a cross-ice pass found Blidh on the right side for a shot that beat Hellberg to the glove side.
At 4:50, though, Combs would strike again for the Wolf Pack, finishing a good offensive-zone pressuring shift by Combs, Hrivik and Jensen. Rookie defenseman Kodie Curran passed from the right-wing circle to Combs, who spun and sent a shot that got by McIntyre low on the stick side.
It was looking like that might hold up as the game-winner, until Alexander Khokhlachev won a faceoff from Chad Nehring in the circle to Hellberg's left, and Griffith grabbed the puck just below the faceoff dot and snapped a high shot past Hellberg at 19:09 of the third to force OT.
The Wolf Pack's next stop in a stretch of five straight road games is this Wednesday, January 20 in Albany, a 7:00 PM game against the Devils. All of the action can be heard live on News Radio 1410 WPOP, and on-line at www.newsradio1410.com and iHeartRadio. Video streaming is available at www.ahllive.com.
The next home game for the Wolf Pack is this Sunday, January 24, with the Portland Pirates visiting the XL Center for a 3:00 game. It being a Sunday, fans can take advantage of the Wolf Pack's "Click It or Ticket Family Value Pack", which includes two tickets, two sodas and two hot dogs, all for just $35.
Tickets for all 2015-16 Wolf Pack home games are on sale at the Agera Energy Ticket Office at the XL Center, on-line at www.hartfordwolfpack.com and by phone at (877) 522-8499.
To speak with a Wolf Pack representative about season or group tickets, or any of the Wolf Pack's many ticketing options, call (855) 762-6451, or click here to request more info.
Hartford Wolf Pack 3 (OT) at Providence Bruins 2
Monday, January 18, 2016 - Dunkin' Donuts Center

Hartford 1 1 0 1 - 3
Providence 0 1 1 0 - 2

1st Period-1, Hartford, Combs 1 (Jensen, Hrivik), 4:38. Penalties-Cross Pro (hooking), 19:44.

2nd Period-2, Providence, Blidh 9 (Cave, Hargrove), 4:21. 3, Hartford, Combs 2 (Curran, Hrivik), 4:50. Penalties-No Penalties

3rd Period-4, Providence, Griffith 12 (Khokhlachev), 19:09. Penalties-Hargrove Pro (hooking), 0:57; Khokhlachev Pro (tripping), 7:01; Hughes Hfd (interference), 11:20; Graves Hfd (high-sticking), 13:29; DeFazio Pro (tripping), 14:22.

OT Period-5, Hartford, Skjei 3 (Bourque), 1:47. Penalties-No Penalties

Shots on Goal-Hartford 9-8-7-2-26. Providence 12-7-12-0-31.
Power Play Opportunities-Hartford 0 / 4; Providence 0 / 2.
Goalies-Hartford, Hellberg 13-10-0 (31 shots-29 saves). Providence, McIntyre 6-6-0 (26 shots-23 saves).
A-7,606
Referees-Furman South (55), David Banfield (77).
Linesmen-Bob Bernard (42), Daniel Panciocco (36).
Back to All