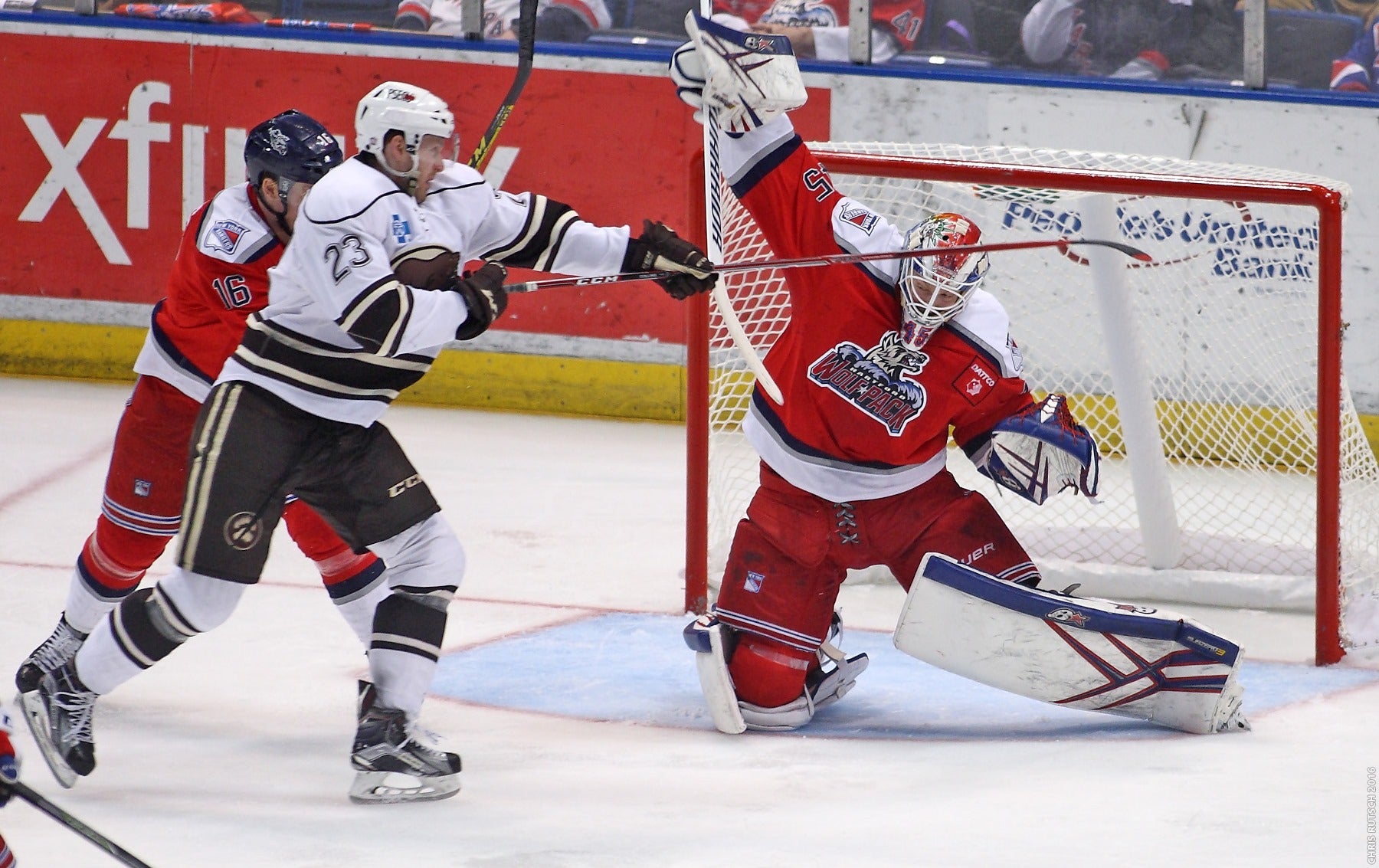 Skjei's Goal, two Assists Key Pack Win over Bears
Apr 1, 2016
By Chuck Packard
Wolf Pack rookie defenseman Brady Skjei equaled a personal pro-best with three points, a goal and two assists, Friday night at the XL Center, leading the Wolf Pack to a 5-1 win over the Atlantic Division-leading Hershey Bears.
Former Bear Chris Brown had the game-winning goal against his old team, and Marek Hrivik, Nicklas Jensen and Brian Gibbons scored third-period goals for the Wolf Pack. Mat Bodie had two assists. Riley Barber scored the only Hershey goal.
Wolf Pack head coach Ken Gernander said of the team's 60-minute effort, "It's part of the maturation process, is learning how to close out games, and obviously I think we did a pretty good job at that tonight."
The Wolf Pack scored first at the 14-minute mark of the first period, with Skjei getting his fourth of the season. The goal was scored in a 4-on-4 situation, after matching roughing penalties on Hershey's Nathan Walker and Chris Brown. Jayson Megna had the lone assist on Skjei's goal.
With 12:11 gone the second period, Brown increased the lead for the Wolf Pack to two, with the eventual game-winner. Brown beat Hershey goaltender Dan Ellis (27 saves) over the catching glove on a partial breakaway, with Boo Nieves, making his pro debut for Hartford, picking up the primary assist.
"We played with the lead", said Wolf Pack captain Mat Bodie. "Any time you play with the lead you can be a little more confident, and it was nice to see the guys making some plays out there."
Hershey got on the board with 53.1 seconds left in the second period, on Barber's 24th goal of the season. He was assisted by Chandler Stephenson and Chris Bourque.
Hershey third-period penalties 14 seconds apart, to Ryan Stanton and Zach Sill, gave the Wolf Pack a 5-on-3, which Hrivik was able to take advantage of. His 12th goal of the season, at 6:37, was assisted by Skjei and Bodie.
"We kept pushing them and kept playing to our game, and played that for the whole 60 minutes, which obviously you need to do," Skjei said of the Wolf Pack effort.
The Wolf Pack scoring continued with 9:39 left in the game, as Nicklas Jensen lifted a shot past Ellis, after a Luke Adam try was blocked in front of the net.
Gibbons completed the scoring with 5:48 left. He flicked in his 7th of the year, set up in front of the goal by Tyler Brown. Steven Fogarty, another Wolf Pack newcomer playing his first pro game, notched the other assist.
The Wolf Pack are right back at the XL Center Saturday night, hosting the Portland Pirates in a 7:00 PM game. Tickets for all remaining 2015-16 Wolf Pack home games are on sale at the Agera Energy Ticket Office at the XL Center, on-line at www.hartfordwolfpack.com and by phone at (877) 522-8499.
To speak with a Wolf Pack representative about season or group tickets, or any of the Wolf Pack's many ticketing options, call (855) 762-6451, or click here to request more info.
Hershey Bears 1 at Hartford Wolf Pack 5
Friday, April 1, 2016 - XL Center

Hershey 0 1 0 - 1
Hartford 1 1 3 - 5

1st Period-1, Hartford, Skjei 4 (Megna), 14:00. Penalties-Stanton Her (tripping), 5:59; Megna Hfd (tripping), 6:34; Walker Her (roughing), 12:57; C. Brown Hfd (roughing), 12:57.

2nd Period-2, Hartford, C. Brown 5 (Nieves, Skjei), 12:11. 3, Hershey, Barber 24 (Stephenson, C. Bourque), 19:06. Penalties-Hughes Hfd (tripping), 3:07; Siegenthaler Her (holding), 8:43.

3rd Period-4, Hartford, Hrivik 12 (Skjei, Bodie), 6:37 (PP). 5, Hartford, Jensen 17 (Adam, Bodie), 10:21. 6, Hartford, Gibbons 7 (T. Brown, Fogarty), 14:12. Penalties-Stanton Her (tripping), 5:40; Sill Her (boarding), 5:54; Gazley Her (hooking), 14:23; Andersson Hfd (broken stick), 16:38; Gibbons Hfd (hooking), 18:05.

Shots on Goal-Hershey 7-6-6-19. Hartford 6-11-15-32.
Power Play Opportunities-Hershey 0 / 4; Hartford 1 / 5.
Goalies-Hershey, Ellis 24-10-2 (32 shots-27 saves). Hartford, Hellberg 28-18-0 (19 shots-18 saves).
A-5,062
Referees-Chris Schlenker (23).
Linesmen-Glen Cooke (6), Robert St. Lawrence (10).
Back to All