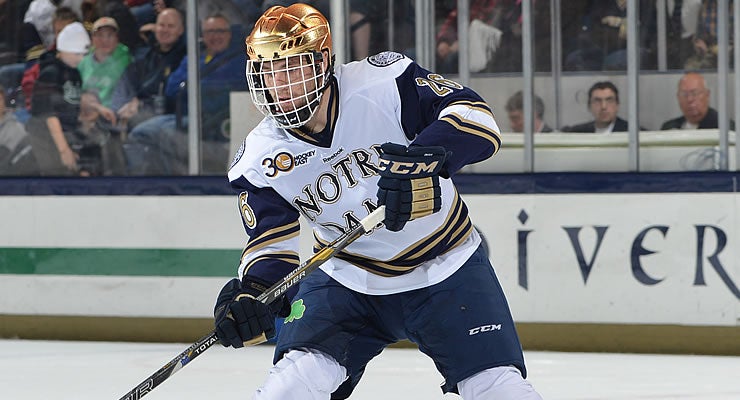 Pack Sign two Forwards to ATOs
Mar 31, 2016
(Steven Fogarty photo courtesy of hockeyeastonline.com)
Wolf Pack general manager Jim Schoenfeld announced today that the Wolf Pack has signed forwards Cristoval "Boo" Nieves and Steven Fogarty to Amateur Tryout (ATO) agreements.
Nieves, a 22-year-old native of Syracuse, NY, was a second-round selection (59th overall) by the parent New York Rangers in the 2012 NHL Draft. The 6-3, 200-pound Nieves just completed his fourth season at the University of Michigan, helping to lead the Wolverines to a Big-10 championship with 10 goals and 21 assists for 31 points in 35 games. In 144 career games with U. Michigan, Nieves totaled 28 goals and 82 assists for 110 points, along with 72 penalty minutes.
Fogarty, 6-3 and 212 pounds, hails from Chambersburg, PA and was a third-round (72nd overall) Ranger pick in the 2011 Draft. Fogarty played the last four seasons at the University of Notre Dame, and captained the Fighting Irish the past two years. The 22-year-old Fogarty had ten goals and 13 assists for 23 points, plus 26 PIM, in 37 games in his Senior season. Over his Notre Dame career, Fogarty amassed 27 goals and 38 assists for 65 points, along with 46 PIM, in 150 games.
The Wolf Pack are next in action at home tomorrow night, Friday, April 1, as the Hershey Bears visit the XL Center for a 7:15 PM game. That is the Wolf Pack's last Friday-night home game of the regular season, and the last chance for fans to enjoy $1 hot dogs and $2 beers through the start of the second period.
Tickets for all remaining 2015-16 Wolf Pack home games are on sale now at the Agera Energy Ticket Office at the XL Center, on-line at www.hartfordwolfpack.com and by phone at (877) 522-8499. Tickets purchased in advance for kids 12 or younger have been reduced to $10 this season, and all tickets will have a $2 day-of-game increase.
To speak with a Wolf Pack representative about season or group tickets, or any of the Wolf Pack's many ticketing options, call (855) 762-6451.
Back to All