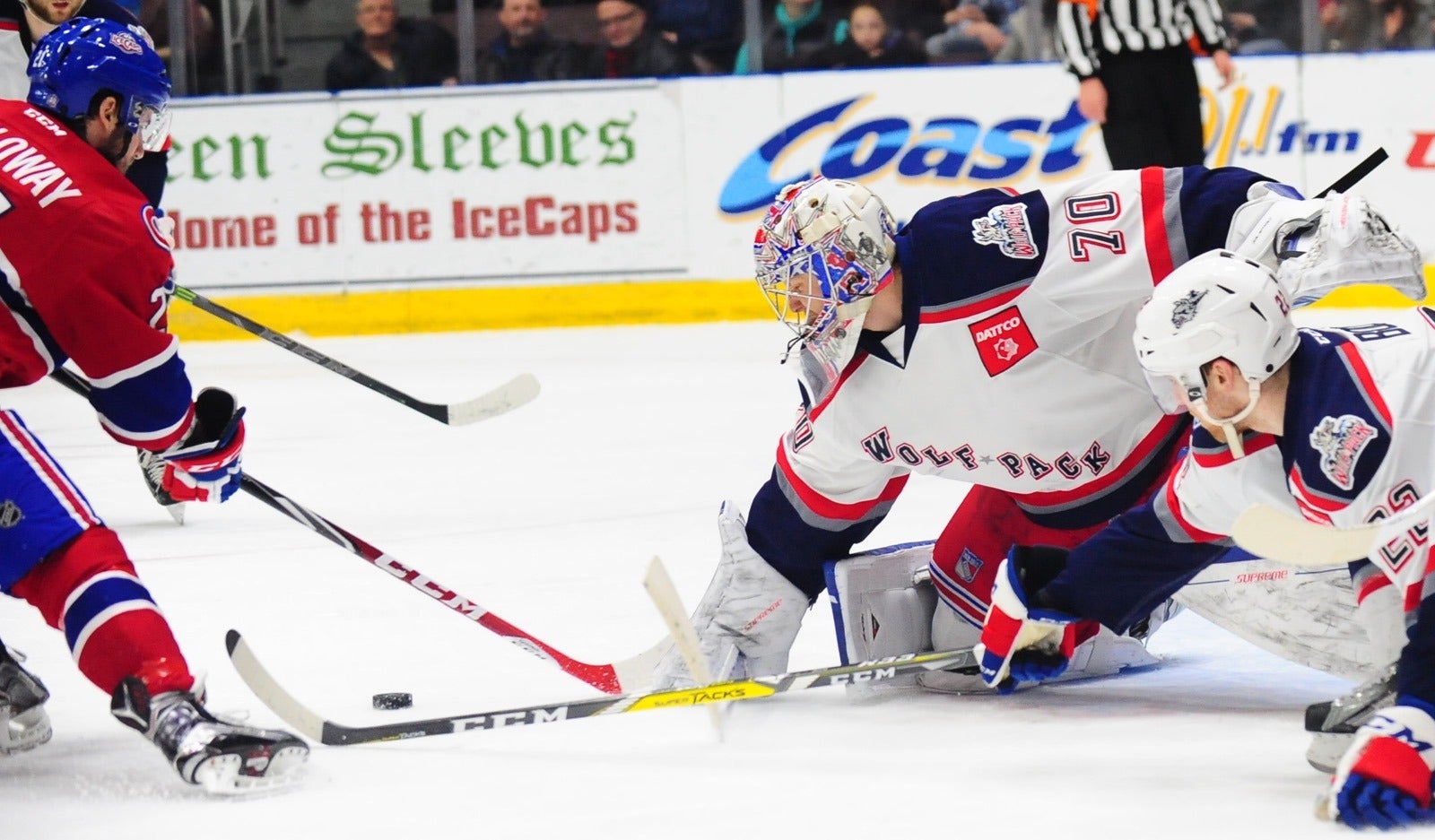 Pack Finish Season with 2-1 Loss at St. John's
Apr 16, 2016
(Photo by Colin Peddle/IceCapsAHL)
The Wolf Pack's season ended Saturday night at Mile One Centre in St. John's, Newfoundland with a 2-1 loss to the St. John's IceCaps.
Tim Bozon's goal with 2:19 remaining in the third period was the game-winner, and IceCap goaltender Eddie Pasquale made 35 saves.
Adam Tambellini scored the only goal of the game for the Wolf Pack, who had been eliminated from the Calder Cup playoff race the night before, despite a 4-1 victory over the IceCaps in the first of back-to-back games in St. John's.
Mackenzie Skapski made 33 stops in the Hartford net.
"We had some chances early on in the game to put a few by him (Pasquale)," Tambellini said, "but he made some good saves, and that kind of stuff happens."
After a scoreless first period, the two teams traded goals in the second frame.
Tambellini, who had three assists in the Wolf Pack's Friday night victory, opened the scoring at 4:11, finishing a 2-on-1 break with Jayson Megna, whose pass sent Tambellini in alone on Pasquale. Tambellini's shot beat Pasquale to the stick side.
The IceCaps tied it with 2:53 left in the period, though, with Jacob de la Rose scoring his seventh AHL goal of the year. Max Friberg left the puck for de la Rose just inside the Wolf Pack blue line, and he snapped a high, hard shot through a screen and past the catching glove of Skapski.
The score remained 1-1 until Bozon was able to fire a shot into the top corner on the glove side at 17:41 of the third. Bozon was set up in the slot by a pass from the right-wing side by Mark MacMillan, after the Wolf Pack were unable to get the puck out of their zone near the blue line.
The defeat made the Wolf Pack's final record for the season 41-32-3-0 for 85 points. The team was 12-5-1-0 over the last 18 games of the regular season, falling just short of a playoff spot.
"I think we did our part for most of it," said Tambellini of the Wolf Pack's playoff push. "We won a lot of games down the stretch, and it's too bad our mid and early-season losing streaks kind of caught up to us. But that happens, and it's hockey."
To speak with a Wolf Pack representative about season or group tickets, or any of the Wolf Pack's many ticketing options, call (855) 762-6451, or click here to request more info.
Hartford Wolf Pack 1 at St. John's IceCaps 2
Saturday, April 16, 2016 - Mile One Centre

Hartford 0 1 0 - 1
St. John's 0 1 1 - 2

1st Period- No Scoring. Penalties-No Penalties

2nd Period-1, Hartford, Tambellini 17 (Megna, Graves), 4:11. 2, St. John's, de la Rose 7 (Friberg, Dumont), 17:07. Penalties-Andersson Hfd (interference), 5:26; Hanley Stj (hooking), 11:20.

3rd Period-3, St. John's, Bozon 5 (MacMillan, Gregoire), 17:41. Penalties-Scherbak Stj (high-sticking), 8:04.

Shots on Goal-Hartford 8-15-13-36. St. John's 10-16-9-35.
Power Play Opportunities-Hartford 0 / 2; St. John's 0 / 1.
Goalies-Hartford, Skapski 4-7-0 (35 shots-33 saves). St. John's, Pasquale 13-10-0 (36 shots-35 saves).
A-5,994
Referees-Brett Iverson (51).
Linesmen-Sheldon Keough (63), Darryl Butt (70).
Back to All