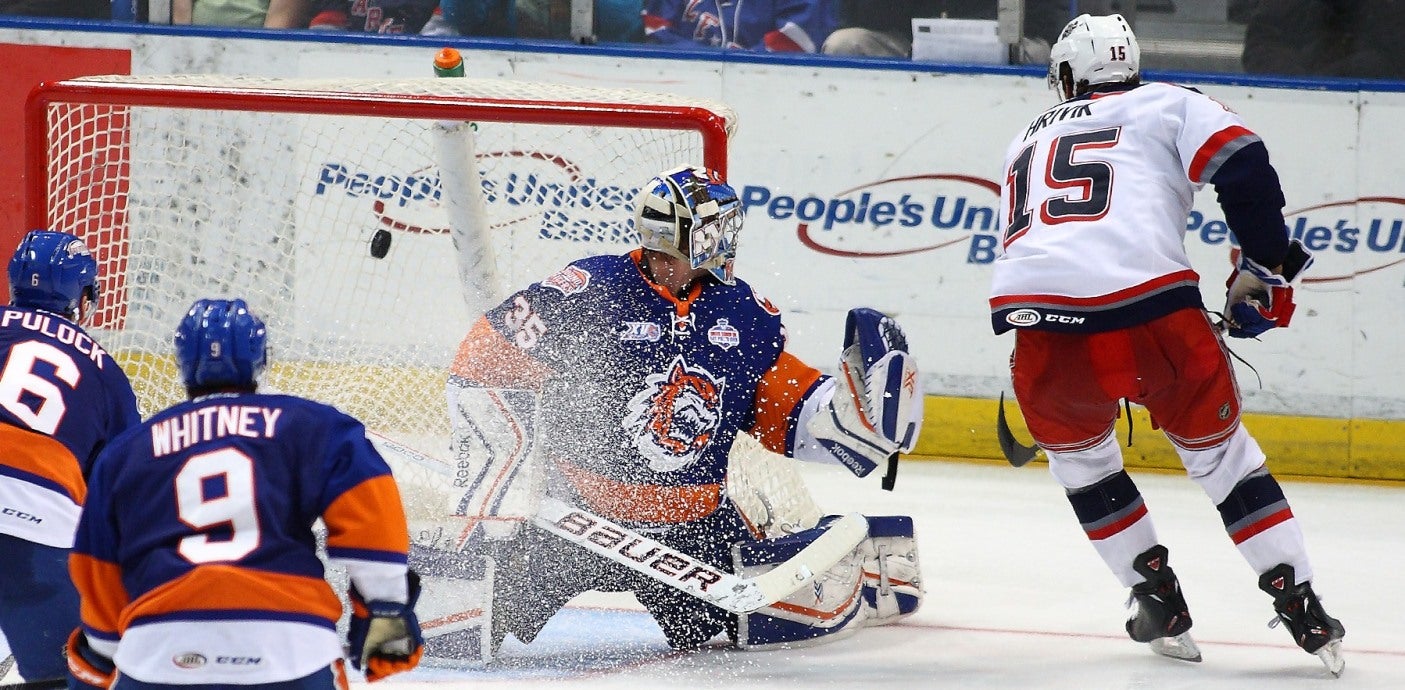 Pack Finally Solve Sound Tigers, 4-2
Dec 12, 2015
The Wolf Pack earned their first victory in four tries against the Bridgeport Sound Tigers, winning 4-2 Saturday night at the XL Center.
Marek Hrivik had the game-winner with a shorthanded goal and added an assist, Ryan Bourque scored his fifth goal of the year and Magnus Hellberg in net made 25 saves on 27 shots.
Taylor Beck scored his sixth goal of the season for Bridgeport, and Stephon Williams made 22 saves in the Bridgeport loss.
Wolf Pack coach Ken Gernander said of the shorthanded winner and penalty kill, "We're going to take offense from all sources. I think our penalty kill has been strong all season, and that was a great goal."
The first goal of the game was scored by Bourque, who went top shelf to beat Williams. Time of the goal was 12:06 of the second period, and the goal was unassisted.
Bridgeport struck back quickly with a goal from Mike Halmo at 15:36. He was assisted by Joe Whitney and Bracken Kearns.
Bridgeport's Beck was called for a tripping penalty at 16:28, leading to Hartford's second goal at 17:58, scored by Calle Andersson. He was assisted by Martin Hrivik and Brady Skjei.
Hrivik was optimistic about the offense displayed by the Wolf Pack. "We have to put more pucks at the net," he said. "We were trying to be a little too cute out there and make a lot of plays, but sometimes all it takes is to put the puck at the net, which is what we tried tonight."
The third period was devoid of scoring until the 9:41 mark, when Hrivik scored shorthanded, on a backhander, to put the Wolf Pack up 3-1. He was assisted by Chad Nehring and Brady Skjei.
Bridgeport scored only 1:28, on a power play. The goal was scored by Taylor Beck, assisted by Jesse Graham and Ryan Pulock. The penalty was on Nehring at 10:27 for boarding.
The game was sealed with an open net goal at 19:43 by Travis Oleksuk, unassisted.
"We just have to play a full 60 minutes," Wolf Pack defenseman Brady Skjei said. "In the past we come out hot the first period...tonight we played a full 60 minutes and I don't think there are many teams that can play with us if we play as good as we can."
The Wolf Pack now head to Providence Sunday, for their second game in three days against the Bruins. Faceoff is 3:05 PM, and all of the action can be heard live on News Radio 1410 WPOP, and on-line at www.newsradio1410.com and iHeartRadio. Video streaming is available at www.ahllive.com.
The Wolf Pack's next home game is Tuesday, December 29th, when the Wolf Pack host the Portland Pirates in a 7:00 game. That is Scout Night at the XL Center. Scout groups that reserve in advance receive discounted tickets and special Scout Night patches.
Tickets for all 2015-16 Wolf Pack home games are on sale at the Agera Energy Ticket Office at the XL Center, on-line at www.hartfordwolfpack.com and by phone at (877) 522-8499.
To speak with a Wolf Pack representative about season or group tickets, or any of the Wolf Pack's many ticketing options, call (855) 762-6451, or click here to request more info.
Bridgeport Sound Tigers 2 at Hartford Wolf Pack 4
Saturday, December 12, 2015 - XL Center

Bridgeport 0 1 1 - 2
Hartford 0 2 2 - 4

1st Period- No Scoring. Penalties-Whitney Bri (goaltender interference), 7:54; Summers Hfd (hooking), 12:21; Nehring Hfd (slashing), 19:14.

2nd Period-1, Hartford, Bourque 5 12:06. 2, Bridgeport, Halmo 2 (Whitney, Kearns), 15:36. 3, Hartford, Andersson 2 (Skjei, Hrivik), 17:58 (PP). Penalties-Mayfield Bri (holding), 5:35; Beck Bri (tripping), 16:28.

3rd Period-4, Hartford, Hrivik 3 (Nehring, Skjei), 9:41 (SH). 5, Bridgeport, Beck 6 (Graham, Pulock), 11:09 (PP). 6, Hartford, Oleksuk 3 19:43 (SH EN). Penalties-Adam Hfd (tripping), 9:04; Nehring Hfd (boarding), 10:27; Wright Bri (hooking), 17:41; Gibbons Hfd (hooking), 18:53.

Shots on Goal-Bridgeport 5-7-15-27. Hartford 9-9-8-26.
Power Play Opportunities-Bridgeport 1 / 5; Hartford 1 / 4.
Goalies-Bridgeport, Williams 6-5-0 (25 shots-22 saves). Hartford, Hellberg 8-7-0 (27 shots-25 saves).
A-5,533
Referees-Jake Brenk (42).
Linesmen-Brent Colby (7), Brian Pincus (25).
Back to All