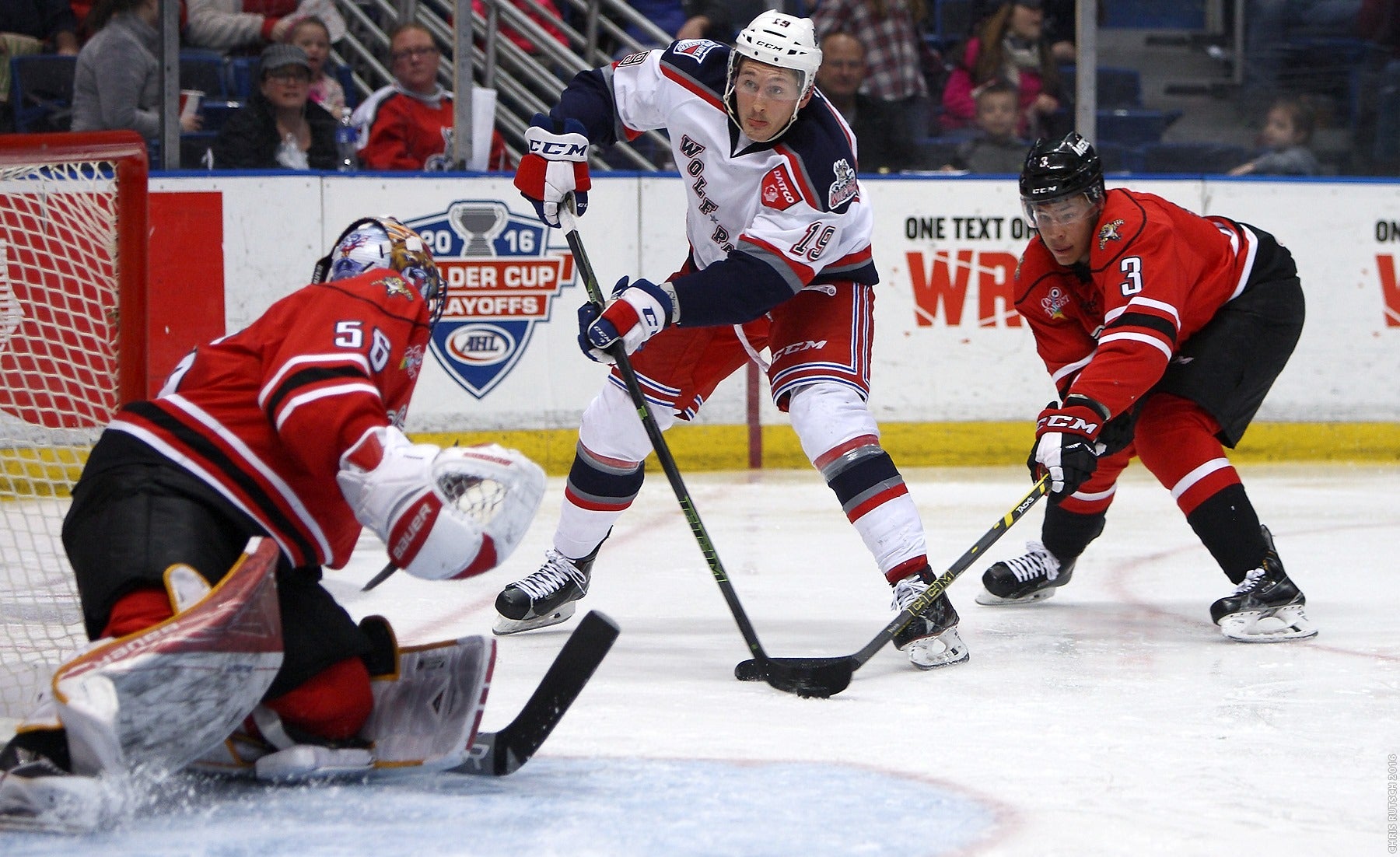 Pack Fall Further behind Pirates in 4-1 Loss
Apr 2, 2016
By Phil Oxnard
The Wolf Pack fell to four points behind the Portland Pirates for the last playoff spot in the Eastern Conference Saturday, losing 4-1 to the Pirates at the XL Center.
The Wolf Pack outshot Portland 44-28 in the game, but Mike McKenna made 43 saves in the Pirate net. Wade Megan scored twice for Portland, which also got goals from Brent Regner and Brett Olson. Daniel Paille had the only Wolf Pack goal, and Magnus Hellberg stopped 24 shots.
"I thought overall we had a strong game," said Paille. "It's definitely frustrating when you put up 40 shots and only get one goal."
The game started off with a bang after Portland tallied its first goal just 21 seconds in. Regner got credit for an unassisted goal, bouncing the puck from the right point off multiple Wolf Pack defenders on its way into the net.
"Sometimes there's some breaks in the game that you can't control," Paille said of the early Pirate goal, "and I think they had a few more than we did."
That was the only goal of the first period, despite a 17-7 Wolf Pack shots edge.
The scored stayed 1-0 until deep into the second period, before the Pirates exploded for two goals within 14 seconds of each other. Megan scored the first at 18:38, and Brett Olson followed it up with a goal of his own at 18:52.
The third period started out well for Hartford, with Paille scoring at 2:58 off a faceoff win by Boo Nieves. It was Paille's third goal of the season, and the second assist for Nieves in two pro games.
Megan closed out the scoring with an open net goal at 19:27, hitting the vacated cage from the left-wing boards inside his own blue line.
"We're a pretty good puck possession team," Wolf Pack head coach Ken Gernander summarized. "And that's always the hard part, is to take it that next step and get it into areas where you can score goals."
The Wolf Pack are now off until this Friday night, April 8, when they begin a home-and-home series with the Springfield Falcons at the MassMutual Center in Springfield. Faceoff that night is 7:00 PM, and all of the action can be heard live on-line at www.979espn.com and on iHeartRadio. Video streaming is available at www.ahllive.com.
Then, the Falcons visit the XL Center next Saturday night, April 9, for the Wolf Pack's last regular-season home game. That is also a 7:00 faceoff, and it's "Fan Appreciation Night". The Wolf Pack will salute all of the great fans who have supported the team throughout the season, with numerous exciting prize giveaways.
Tickets for Saturday's Fan Appreciation Night are on sale at the Agera Energy Ticket Office at the XL Center, on-line at www.hartfordwolfpack.com and by phone at (877) 522-8499.
To speak with a Wolf Pack representative about season or group tickets, or any of the Wolf Pack's many ticketing options, call (855) 762-6451, or click here to request more info.
Portland Pirates 4 at Hartford Wolf Pack 1
Saturday, April 2, 2016 - XL Center

Portland 1 2 1 - 4
Hartford 0 0 1 - 1

1st Period-1, Portland, Regner 5 0:21. Penalties-No Penalties

2nd Period-2, Portland, Megan 12 (Brickley, Shaw), 18:38. 3, Portland, Olson 11 (Lynch, Flick), 18:52. Penalties-Megan Por (hooking), 0:17; Regner Por (high-sticking), 1:26; Graves Hfd (tripping), 3:04; Megan Por (tripping), 13:40.

3rd Period-4, Hartford, Paille 3 (Nieves), 2:58. 5, Portland, Megan 13 19:27. Penalties-Graves Hfd (high-sticking), 0:55; Flick Por (hooking), 7:06; Skjei Hfd (diving/embellishment), 7:06; Megan Por (holding), 8:21; MacKenzie Por (cross-checking), 15:01.

Shots on Goal-Portland 7-14-7-28. Hartford 17-15-12-44.
Power Play Opportunities-Portland 0 / 2; Hartford 0 / 5.
Goalies-Portland, McKenna 31-15-2 (44 shots-43 saves). Hartford, Hellberg 28-19-0 (28 shots-24 saves).
A-5,810
Referees-Jamie Koharski (84), Terry Koharski (10).
Linesmen-Luke Galvin (2), Kevin Redding (16).
Back to All