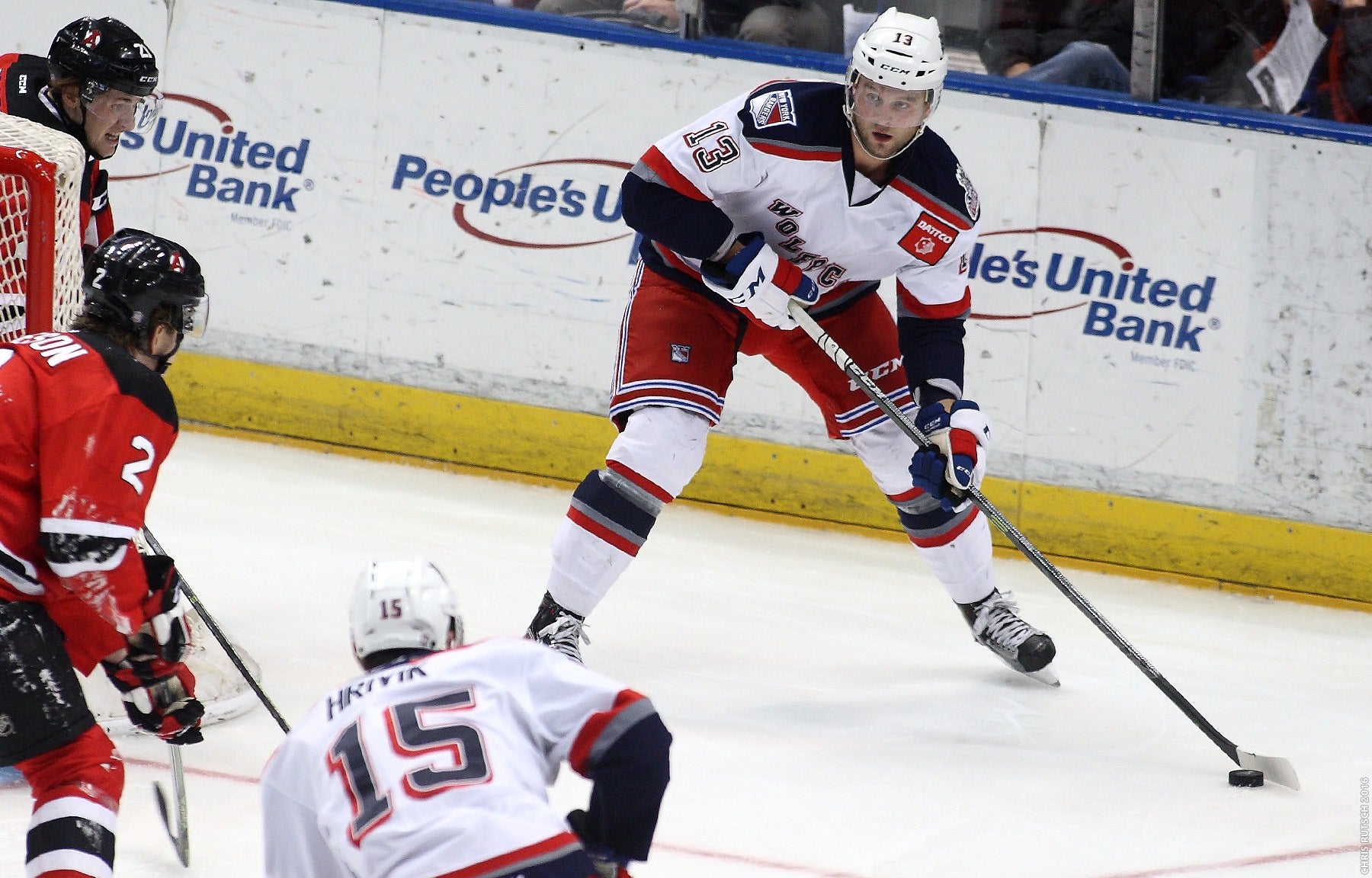 Pack can't Solve Devils in Albany
Feb 6, 2016
The Wolf Pack suffered just their second loss in the last 12 games Saturday night at the Times Union Center in Albany, NY, falling 3-0 to former Wolf Pack goaltender Yann Danis and the Albany Devils.
Danis blanked Hartford for the second time on the season, making 21 saves. He also had a shutout against the Wolf Pack November 7 in Hartford, with 24 saves in a 4-0 Devil win. Magnus Hellberg, who had a shutout of his own for the Wolf Pack the night before, in a 5-0 victory at Portland, allowed three goals on 27 shots Saturday.
Mike Sislo had a goal and an assist for Albany, and Brandon Burlon added two assists.
"They came out flying," Wolf Pack captain Ryan Bourque said of the Devils. "You know coming into this building that's the type of game you're going to get. It's a very stingy game when you come in here, and I actually haven't seen them come out that well in a long time. It was tough right from the get-go, but I think we bounced back in the second and had a little push-back, but unfortunately it wasn't enough. We didn't have enough in the tank to get the job done tonight."
The Devils controlled much of the play in the first period, outshooting the Wolf Pack 12-8 and building a 2-0 lead.
Albany jumped on top only 2:29 in, on a goal by Ben Thomson. Hellberg stopped Ryan Kujawinski's shot from the left point with his pads, but the rebound came to Thomson in front and he snapped it in.
Hellberg then got a bad break at 13:34, as, after a shot by Sislo fluttered wide, Paul Thompson poked at the puck from below the goa line to Hellberg's left, and it hit Hellberg's catching glove and went in for a 2-0 Albany advantage.
The Wolf Pack outshot the Devils 9-8 in the second but couldn't solve Danis, and Sislo put the game out of reach 3:27 into the third with his team-leading 18th goal of the year. Just three seconds after the Wolf Pack's Brady Skjei got out of the penalty box, Sislo snapped a long shot that eluded Hellberg on the stick side.
The next action for the Wolf Pack is on home ice this Friday night, February 12, with the Wilkes-Barre/Scranton Penguins visiting the XL Center for a 7:15 PM game. At all Friday-night Wolf Pack home games, fans can enjoy $1 hot dogs and $2 beers, through the start of the second period.
Tickets for all remaining 2015-16 Wolf Pack home games are on sale at the Agera Energy Ticket Office at the XL Center, on-line at www.hartfordwolfpack.com and by phone at (877) 522-8499.
To speak with a Wolf Pack representative about season or group tickets, or any of the Wolf Pack's many ticketing options, call (855) 762-6451, or click here to request more info.
Hartford Wolf Pack 0 at Albany Devils 3
Saturday, February 6, 2016 - Times Union Center

Hartford 0 0 0 - 0
Albany 2 0 1 - 3

1st Period-1, Albany, Thomson 4 (Kujawinski, Burlon), 2:29. 2, Albany, Thompson 8 (Sislo, Lorito), 13:34. Penalties-No Penalties

2nd Period- No Scoring. Penalties-Tropp Alb (tripping), 13:52.

3rd Period-3, Albany, Sislo 18 (O'Neill, Burlon), 3:27. Penalties-Skjei Hfd (high-sticking), 1:24.

Shots on Goal-Hartford 8-9-4-21. Albany 12-8-7-27.
Power Play Opportunities-Hartford 0 / 1; Albany 0 / 1.
Goalies-Hartford, Hellberg 17-12-0 (27 shots-24 saves). Albany, Danis 19-7-0 (21 shots-21 saves).
A-8,124
Referees-Alex Garon (64).
Linesmen-Frank Murphy (29), Kory Nagy (14).
Back to All