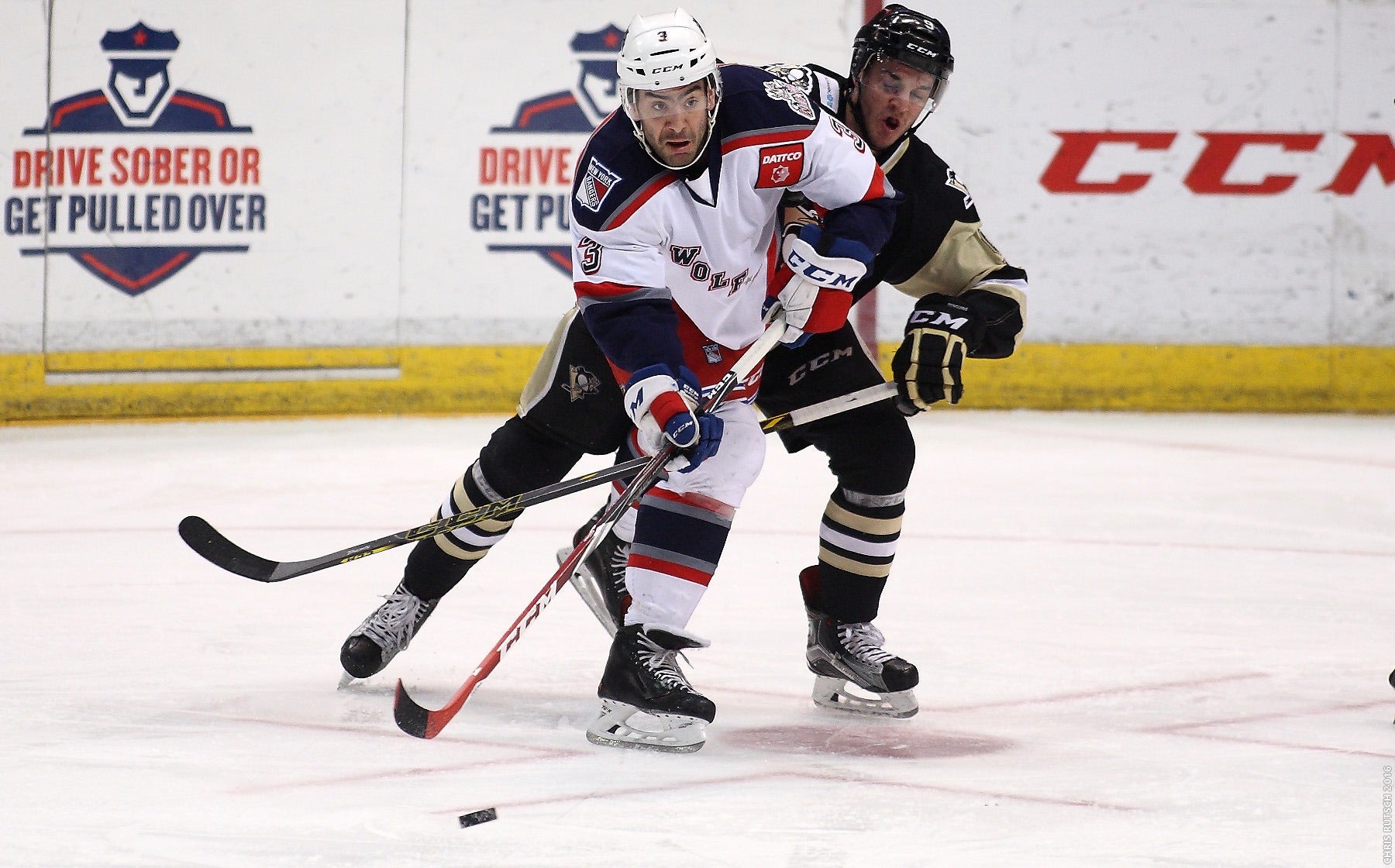 Pack can't Come all the Way back vs. Penguins
Jan 3, 2016
The Wolf Pack fought back from a 3-0 deficit against the Wilkes-Barre/Scranton Penguins Sunday at the XL Center, but the comeback fell short in a 3-2 defeat.
Bryan Rust scored his second goal of the weekend, the eventual game winner, for the Penguins, and Casey Desmith took home his first AHL victory with 22 saves. Other Penguin goals were scored by Jean-Sebastien Dea and Dominik Simon.
The Wolf Pack's Magnus Hellberg made 31 saves in the loss, and Chad Nehring scored his 12th goal of the season with six seconds remaining in the game. Nick Tarnasky accounted for the other Wolf Pack goal.
The first period of the game scoreless until the last 12 seconds, when a ricochet off Tom Kuhnhackl's skate set up Simon's 12th goal of the season.
"We had maybe fits and starts, but certainly not sixty minutes of the type of hockey we wanted to play," said Wolf Pack coach Ken Gernander.
Simon's goal set up an explosive first minute of the second period, in which Wilkes-Barre/Scranton was able to score twice more.
Just 41 seconds into the second period Dea scored a goal assisted by Adam Clendening, beating Hellberg over his glove side shoulder. The Penguins quickly followed up 15 seconds later with an unassisted goal, scored by Rust.
"It gets a little bit frustrating, at times we've seen some good hockey", said Gernander, "but we don't maintain it for long stretches, and given our position right now we're going to need to start stringing some wins together."
A rash of penalties, tripping minors for Ryan Graves, Tom Kostopoulos and Tim Erixon, put the Penguins down two men. However, the Wolf Pack were unable to capitalize on the advantage.
The first Wolf Pack goal of the game came 7:34 into the second, as Tarnasky punched in a loose puck, assisted by Chris McCarthy and Chris Summers.
Gernander also spoke on the grind of the season. "We finished the game with ten forwards tonight. We've got some guys that are banged up, there are a few guys that are currently gutting it out, but that doesn't always show itself in the stats."
Nehring brought the Wolf Pack within one goal with six seconds on the clock, assisted by Ryan Graves and Mat Bodie. The Wolf Pack, though, did not have enough time to complete the comeback.
The Wolf Pack's next action is back at the XL Center this Friday, January 8 vs. the Springfield Falcons, the first of three home games on the weekend. At all Friday-night Wolf Pack home games, fans can enjoy $1 hot dogs and $2 beers, through the start of the second period.
Tickets for all 2015-16 Wolf Pack home games are on sale at the Agera Energy Ticket Office at the XL Center, on-line at www.hartfordwolfpack.com and by phone at (877) 522-8499.
To speak with a Wolf Pack representative about season or group tickets, or any of the Wolf Pack's many ticketing options, call (855) 762-6451, or click here to request more info.
Wilkes-Barre/Scranton Penguins 3 at Hartford Wolf Pack 2
Sunday, January 3, 2016 - XL Center

W-B/Scranton 1 2 0 - 3
Hartford 0 1 1 - 2

1st Period-1, W-B/Scranton, Simon 12 (Kuhnhackl), 19:48. Penalties-Rust Wbs (high-sticking), 11:04.

2nd Period-2, W-B/Scranton, Dea 9 (Clendening), 0:41. 3, W-B/Scranton, Rust 3 0:56. 4, Hartford, Tarnasky 8 (McCarthy, Summers), 7:34. Penalties-Graves Hfd (tripping), 1:37; Kostopoulos Wbs (tripping), 2:07; Erixon Wbs (tripping), 2:41.

3rd Period-5, Hartford, Nehring 12 (Graves, Bodie), 19:54. Penalties-Andersen Wbs (delay of game), 12:20.

Shots on Goal-W-B/Scranton 13-15-6-34. Hartford 5-9-10-24.
Power Play Opportunities-W-B/Scranton 0 / 1; Hartford 0 / 4.
Goalies-W-B/Scranton, Desmith 1-0-0 (24 shots-22 saves). Hartford, Hellberg 8-10-0 (34 shots-31 saves).
A-2,792
Referees-Tom Chmielewski (43).
Linesmen-Glen Cooke (6), Brent Colby (7).
Back to All