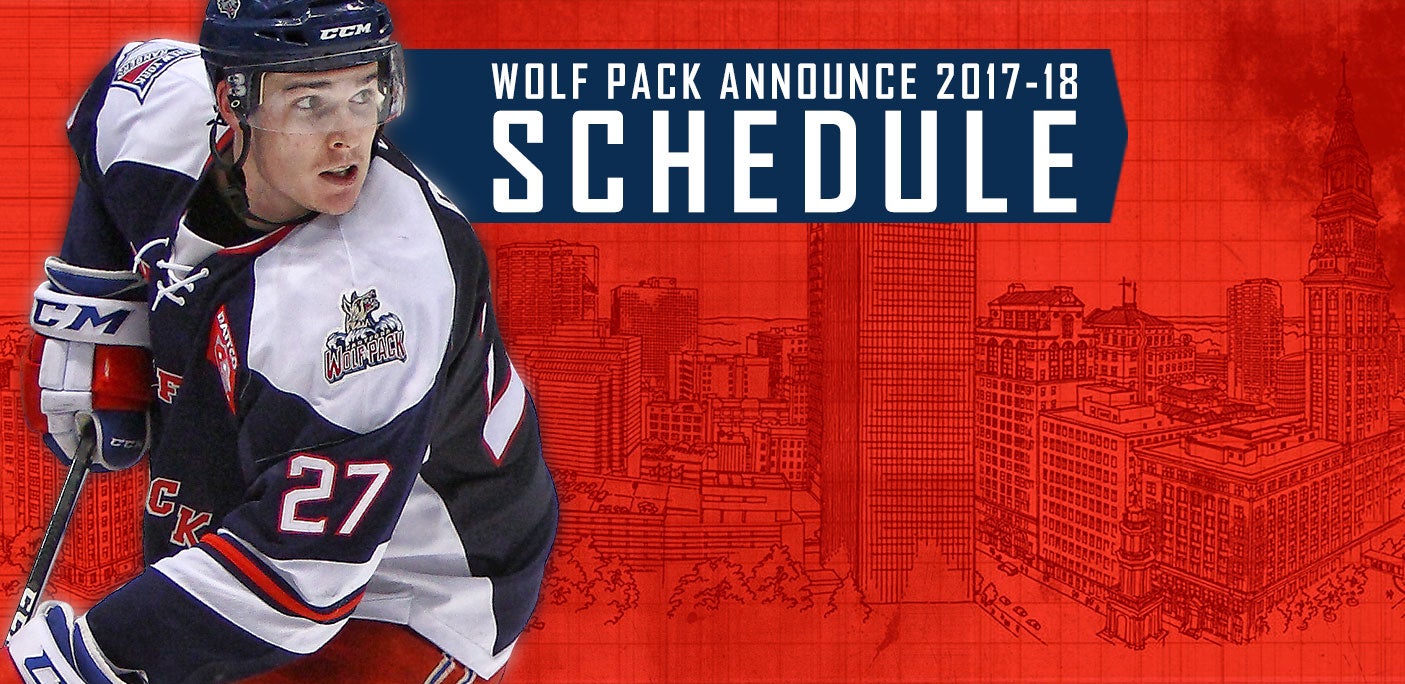 Pack Announce 2017-18 Game Schedule
Jul 11, 2017
Spectra, operators of the XL Center and the Wolf Pack, today announced the Wolf Pack's schedule of games for the 2017-18 American Hockey League season.
View the Full 2017-18 Season Schedule
Download the 2017-18 Printable Schedule
The Wolf Pack's first of 76 games on the year is their home opener at the XL Center, which takes place Friday, October 6 vs. the Charlotte Checkers. Faceoff is 7:15 PM.
Including the home opener, the Wolf Pack schedule will feature 12 Friday-night dates, and 13 more home games will be on Saturdays. The Wolf Pack will play nine Sundays at home, and four Wednesdays.
One of those Wednesday dates, February 7 vs. the Bridgeport Sound Tigers, will be the Wolf Pack's fourth annual "Sonar's Edu-skate" school-day home game, with faceoff at 11:00 AM. All Friday-night home games will be 7:15 PM faceoffs, and the rest of the non-Sunday home outings will start at 7:00 PM, except for Saturday, December 23, Saturday, March 3 and Saturday, March 24, which are 3:00 PM starts, and Saturday, November 4 and Saturday, January 27, which start at 7:30. All Sunday home games will be 5:00 PM faceoffs, except for March 4, which is a 3:00 start.
The most familiar opponent on the Wolf Pack schedule will be their close regional rivals the Springfield Thunderbirds, with whom the Wolf Pack will clash 12 times on the season (six home, six away). The Wolf Pack will have ten games (five home, five away) each vs. divisional foes the Bridgeport Sound Tigers and Providence Bruins, and will take on new Atlantic Division rivals the Charlotte Checkers eight times (four home, four away). The Wolf Pack will see the rest of their divisional opponents, the Hershey Bears, Lehigh Valley Phantoms and Wilkes-Barre/Scranton Penguins, six times (three home, three away) apiece.
In action outside of their division, the Wolf Pack have four games (two home, two away) vs. Empire State foes the Rochester Americans and the Utica Comets, and play each of the remaining North Division teams, the Belleville Senators, Binghamton Devils, Laval Rocket, Syracuse Crunch and Toronto Marlies, twice (one home, one away).
Season ticket information for the Wolf Pack's 2017-18 AHL season can be found on-line at www.hartfordwolfpack.com. To speak with a representative about all of the Wolf Pack's many attractive ticketing options, call (855) 762-6451, or click here to request more info.
HARTFORD WOLF PACK 2017-18 SCHEDULE
(All Home Games in Caps, All Times Eastern)
Fri. Oct. 6 CHARLOTTE 7:15
Sun. Oct. 8 LEHIGH VALLEY 5:00
Fri. Oct. 13 TORONTO 7:15
Sat. Oct. 14 @ Springfield 7:05
Fri. Oct. 20 BELLEVILLE 7:15
Sat. Oct. 21 @ Wilkes-Barre/Scr. 7:05
Sun. Oct. 22 @ Bridgeport 3:00
Fri. Oct. 27 BRIDGEPORT 7:15
Sat. Oct. 28 @ Lehigh Valley 7:05
Sun. Oct. 29 @ Hershey 5:00
Fri. Nov. 3 @ Springfield 7:05
Sat. Nov. 4 PROVIDENCE 7:30
Sun. Nov. 5 SPRINGFIELD 5:00
Sat. Nov. 11 @ Bridgeport 7:00
Sun. Nov. 12 LAVAL 5:00
Wed. Nov. 15 BRIDGEPORT 7:00
Fri. Nov. 17 @ Rochester 7:05
Sat. Nov. 18 @ Utica 7:00
Fri. Nov. 24 @ Bridgeport 7:00
Sat. Nov. 25 HERSHEY 7:00
Sun. Nov. 26 @ Springfield 3:05
Wed. Nov. 29 SPRINGFIELD 7:00
Fri. Dec. 1 @ Rochester 7:05
Sat. Dec. 2 @ Toronto 4:00
Fri. Dec. 8 @ Providence 7:05
Sat. Dec. 9 ROCHESTER 7:00
Sun. Dec. 10 SPRINGFIELD 5:00
Fri. Dec. 15 WILKES-BARRE/SCR. 7:15
Sat. Dec. 16 @ Springfield 7:05
Wed. Dec. 20 @ Lehigh Valley 7:05
Fri. Dec. 22 PROVIDENCE 7:15
Sat. Dec. 23 BRIDGEPORT 3:00
Fri. Dec. 29 @ Wilkes-Barre/Scr. 7:05
Sat. Dec. 30 SPRINGFIELD 7:00
Fri. Jan. 5 @ Providence 7:05
Sat. Jan. 6 SYRACUSE 7:00
Sun. Jan. 7 UTICA 5:00
Wed. Jan. 10 @ Bridgeport 7:00
Fri. Jan. 12 @ Laval 7:30
Sat. Jan. 13 @ Belleville 7:00
Mon. Jan. 15 @ Springfield 1:05
Fri. Jan. 19 UTICA 7:15
Sun. Jan. 21 WILKES-BARRE/SCR. 5:00
Wed. Jan. 24 @ Utica 7:00
Fri. Jan. 26 CHARLOTTE 7:15
Sat. Jan. 27 CHARLOTTE 7:30
Fri. Feb. 2 @ Providence 7:05
Sat. Feb. 3 PROVIDENCE 7:00
Wed. Feb. 7 BRIDGEPORT 11:00
Fri. Feb. 9 @ Syracuse 7:00
Sat. Feb. 10 @ Hershey 7:00
Tue. Feb. 13 @ Charlotte 7:00
Wed. Feb. 14 @ Charlotte 7:00
Sat. Feb. 17 @ Lehigh Valley 7:05
Sun. Feb. 18 @ Bridgeport 3:00
Fri. Feb. 23 HERSHEY 7:15
Sat. Feb. 24 PROVIDENCE 7:00
Sun. Feb. 25 @ Providence 3:05
Fri. Mar. 2 @ Springfield 7:05
Sat. Mar. 3 PROVIDENCE 3:00
Sun. Mar. 4 CHARLOTTE 3:00
Fri. Mar. 9 @ Charlotte 7:15
Sat. Mar. 10 @ Charlotte 6:00
Fri. Mar. 16 LEHIGH VALLEY 7:15
Sat. Mar. 17 @ Wilkes-Barre/Scr. 7:05
Sun. Mar. 18 ROCHESTER 5:00
Sat. Mar. 24 HERSHEY 3:00
Sun. Mar. 25 @ Hershey 5:00
Wed. Mar. 28 SPRINGFIELD 7:00
Fri. Mar. 30 WILKES-BARRE/SCR. 7:15
Sat. Mar. 31 BRIDGEPORT 7:00
Fri. Apr. 6 @ Providence 7:05
Sat. Apr. 7 LEHIGH VALLEY 7:00
Sun. Apr. 8 SPRINGFIELD 5:00
Fri. Apr. 13 BINGHAMTON 7:15
Sat. Apr. 14 @ Binghamton 7:05
HOME
Fri. Oct. 6 CHARLOTTE 7:15
Sun. Oct. 8 LEHIGH VALLEY 5:00
Fri. Oct. 13 TORONTO 7:15
Fri. Oct. 20 BELLEVILLE 7:15
Fri. Oct. 27 BRIDGEPORT 7:15
Sat. Nov. 4 PROVIDENCE 7:30
Sun. Nov. 5 SPRINGFIELD 5:00
Sun. Nov. 12 LAVAL 5:00
Wed. Nov. 15 BRIDGEPORT 7:00
Sat. Nov. 25 HERSHEY 7:00
Wed. Nov. 29 SPRINGFIELD 7:00
Sat. Dec. 9 ROCHESTER 7:00
Sun. Dec. 10 SPRINGFIELD 5:00
Fri. Dec. 15 WILKES-BARRE/SCR. 7:15
Fri. Dec. 22 PROVIDENCE 7:15
Sat. Dec. 23 BRIDGEPORT 3:00
Sat. Dec. 30 SPRINGFIELD 7:00
Sat. Jan. 6 SYRACUSE 7:00
Sun. Jan. 7 UTICA 5:00
Fri. Jan. 19 UTICA 7:15
Sun. Jan. 21 WILKES-BARRE/SCR. 5:00
Fri. Jan. 26 CHARLOTTE 7:15
Sat. Jan. 27 CHARLOTTE 7:30
Sat. Feb. 3 PROVIDENCE 7:00
Wed. Feb. 7 BRIDGEPORT 11:00
Fri. Feb. 23 HERSHEY 7:15
Sat. Feb. 24 PROVIDENCE 7:00
Sat. Mar. 3 PROVIDENCE 3:00
Sun. Mar. 4 CHARLOTTE 3:00
Fri. Mar. 16 LEHIGH VALLEY 7:15
Sun. Mar. 18 ROCHESTER 5:00
Sat. Mar. 24 HERSHEY 3:00
Wed. Mar. 28 SPRINGFIELD 7:00
Fri. Mar. 30 WILKES-BARRE/SCR. 7:15
Sat. Mar. 31 BRIDGEPORT 7:00
Sat. Apr. 7 LEHIGH VALLEY 7:00
Sun. Apr. 8 SPRINGFIELD 5:00
Fri. Apr. 13 BINGHAMTON 7:15
ROAD
Sat. Oct. 14 @ Springfield 7:05
Sat. Oct. 21 @ Wilkes-Barre/Scr. 7:05
Sun. Oct. 22 @ Bridgeport 3:00
Sat. Oct. 28 @ Lehigh Valley 7:05
Sun. Oct. 29 @ Hershey 5:00
Fri. Nov. 3 @ Springfield 7:05
Sat. Nov. 11 @ Bridgeport 7:00
Fri. Nov. 17 @ Rochester 7:05
Sat. Nov. 18 @ Utica 7:00
Fri. Nov. 24 @ Bridgeport 7:00
Sun. Nov. 26 @ Springfield 3:05
Fri. Dec. 1 @ Rochester 7:05
Sat. Dec. 2 @ Toronto 4:00
Fri. Dec. 8 @ Providence 7:05
Sat. Dec. 16 @ Springfield 7:05
Wed. Dec. 20 @ Lehigh Valley 7:05
Fri. Dec. 29 @ Wilkes-Barre/Scr. 7:05
Fri. Jan. 5 @ Providence 7:05
Wed. Jan. 10 @ Bridgeport 7:00
Fri. Jan. 12 @ Laval 7:30
Sat. Jan. 13 @ Belleville 7:00
Mon. Jan. 15 @ Springfield 1:05
Wed. Jan. 24 @ Utica 7:00
Fri. Feb. 2 @ Providence 7:05
Fri. Feb. 9 @ Syracuse 7:00
Sat. Feb. 10 @ Hershey 7:00
Tue. Feb. 13 @ Charlotte 7:00
Wed. Feb. 14 @ Charlotte 7:00
Sat. Feb. 17 @ Lehigh Valley 7:05
Sun. Feb. 18 @ Bridgeport 3:00
Sun. Feb. 25 @ Providence 3:05
Fri. Mar. 2 @ Springfield 7:05
Fri. Mar. 9 @ Charlotte 7:15
Sat. Mar. 10 @ Charlotte 6:00
Sat. Mar. 17 @ Wilkes-Barre/Scr. 7:05
Sun. Mar. 25 @ Hershey 5:00
Fri. Apr. 6 @ Providence 7:05
Sat. Apr. 14 @ Binghamton 7:05
Back to All