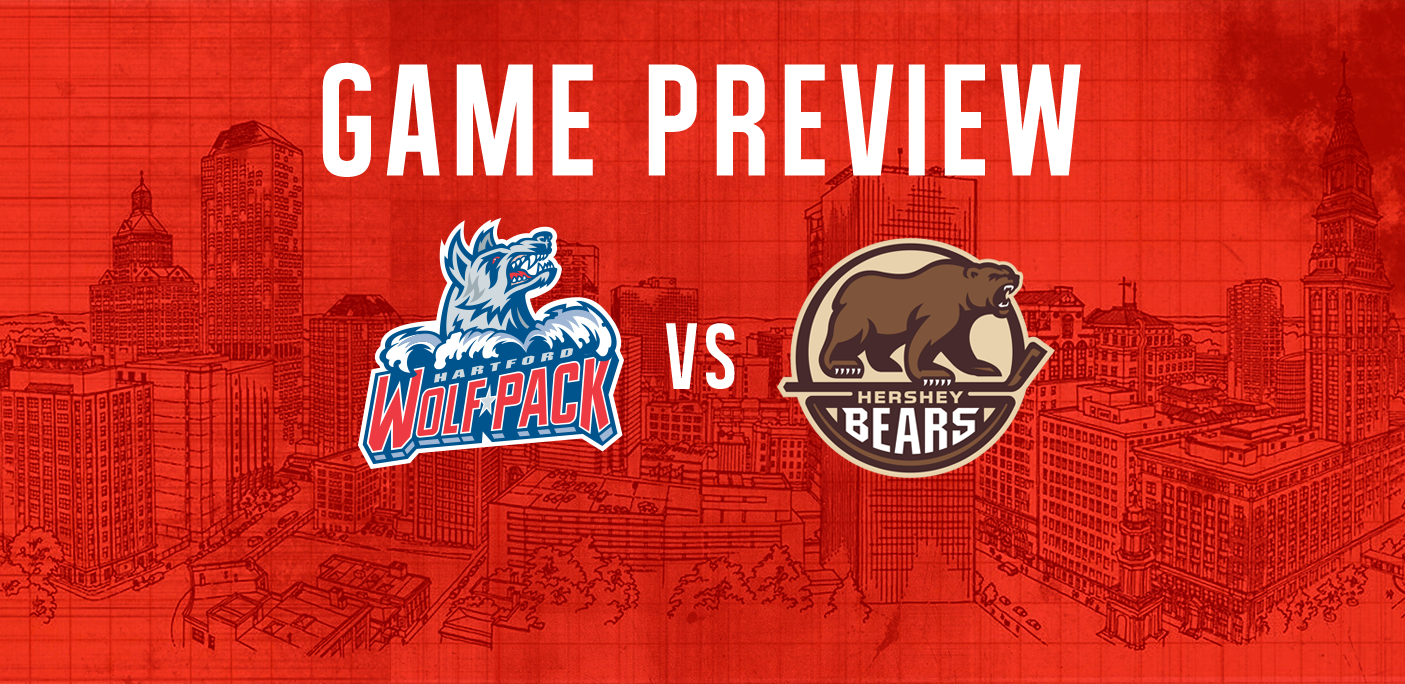 Game Preview
Oct 29, 2017
Game day info:
Hartford Wolf Pack vs. Hershey Bears
Puck Drop: Sunday, Oct. 29 at 5 p.m.
Game Preview:
This game begins a six-game season series between the Wolf Pack and Bears, and is the Wolf Pack's first of three road games in the matchup. Last season the two clubs met eight times, and the Wolf Pack were 3-4-1-0, with a 1-2-1-0 record to show for four visits to Giant Center.
A division rival, the Bears currently sit in seventh place in the North Division with a 2-5-0-1 record with 17 goals for and 32 against. The hockey club has played to only two wins, which came against the Grand Rapids Griffins and Providence Bruins.
Last Time Out:
Last night, the Wolf Pack played to a 5-4 road win against the Lehigh Valley Phantoms in Allentown. Five different goal scorers led the Pack to success, as both Cole Schneider, Filip Chytil and Alexei Bereglazov had multi-point nights. Schneider and Chytil both had a goal and two assists, while Bereglazov added a goal and an assist.
Thus far, the Pack are 4-4-0-1 on the season, which places them at fifth in the Atlantic Division, one spot ahead of the Sound Tigers. The Charlotte Checkers currently lead the division with a 6-2-0-0 record, while the Bruins and Penguins fall close behind in the tight race. Though Hartford sits in fifth place with nine points, the division-leading Checkers only have a three-point advantage, with 12.
Players to Watch:
#10 Cole Schneider
In nine games played, Cole Schneider has scored four goals and notched five assists for a team-leading nine points. The left wing is new to the Wolf Pack, but he is no stranger to Connecticut, as he played collegiately for UConn. Schneider led the Rochester Americans last season in points (63), assists (39) and +/- (+9), and tied for fourth on team in PIM (45.)
# 17 Chris Bourque
Chris Bourque has a team-leading nine points in eight games for the Bears, with two goals and seven assists. The left wing is a former member of the Hartford Wolf Pack, where he had a 66-point season in the 2014-15 AHL season. Since then, he has tallied 149 points for the Bears since the 2016-16 season. He is the AHL's active leading scorer and was drafted by the Washington Capitals in the second round of the 2004 NHL Draft.
Coming Up Next:
The Pack will be back at the XL Center next Saturday, Nov. 4 at 7:30 p.m. for a Country Night game against the Bruins and on Sunday for a 5 p.m. faceoff against the Springfield Thunderbirds. For tickets and information, visit the Hartford Wolf Pack ticketing site or call 866-762-6451.
Back to All