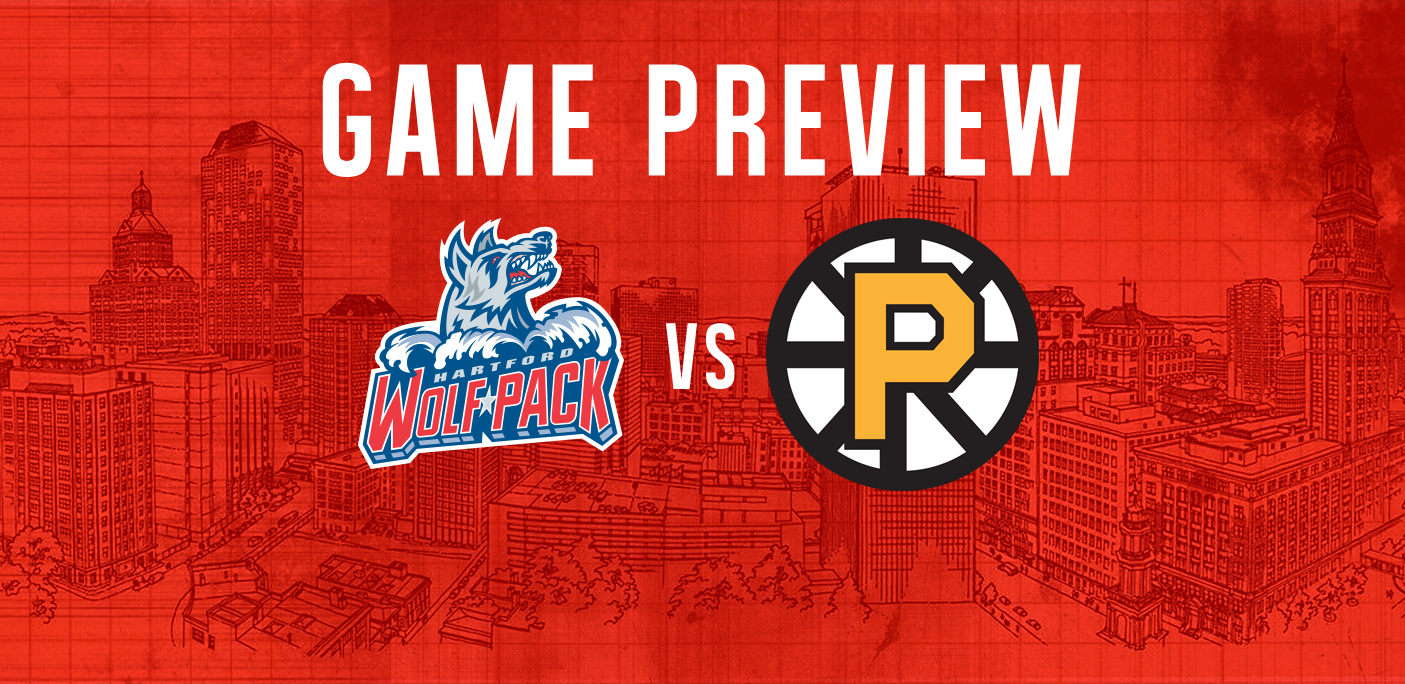 Game Preview
Feb 24, 2018
Game Day Info:
Hartford Wolf Pack vs. Providence Bruins
Puck Drop: Saturday, February 24 at 7 p.m.
Game Preview:
The Providence Bruins and Hartford Wolf Pack last faced off on February 3 at the XL Center, where Colton Hargrove had the Bruins' only goal in the 3-1 Pack win. The Bruins are coming off a 5-3 win over the Bridgeport Sound Tigers last night, and are 31-17-3-2 overall, with 67 points from 53 games.
Last Time Out:
The Wolf Pack are coming off a 4-2 loss to the Hershey Bears last night with goals from Cole Schneider and Scott Kosmachuk in the loss. Schneider's goal and assist on Kosmachuk's goal served as his 300th and 301st career AHL points. Schneider and Kosmachuk are currently tied among active players for the team lead in points with 33. Chris Nell got the start in net, where he made 25 saves on 27 shots.
Thus far, the Pack are 25-24-4-3 on the season with a .509 win percentage, which places them sixth in the ultra-competitive Atlantic Division with 57 points from 56 games played. The Pack sit behind the fifth place Bridgeport Sound Tigers, who have collected 56 points from 53 games played for a 0.528 win percentage. Following the first place Phantoms, the Wilkes/Barre Scranton Penguins, Providence Bruins and Charlotte Checkers currently hold the remaining playoff positions.
Players to Watch:
#10 Cole Schneider
In 53 games played, Cole Schneider has scored 11 goals and notched 22 assists for a tied team-leading 33 points for active players. After last night's game, the forward now has 301 AHL career points. The left wing is in his first season with the Wolf Pack, but he is no stranger to Connecticut, as he played collegiately for UConn. Schneider led the Rochester Americans last season in points (63), assists (39) and +/- (+9), and tied for fourth on team in PIM (45.)
#18 Kenny Agostino
Kenny Agostino has 14 goals and 23 assists for 37 points in 46 games played with the Bruins. The left wing had 24 goals and a whopping 59 assists last season with the Chicago Wolves for a total of 83 points on the season. His 83 points led the AHL by 15 points, with Chris Terry of the St. John's IceCaps trailing him in second with 68 points. Agostino was drafted 140th overall by the Pittsburgh Penguins in the 2010 NHL Draft.
Coming Up Next:
The Pack will be back home at the XL Center next weekend on Saturday and Sunday to face the Providence Bruins and Charlotte Checkers. Saturday serves as the Wolf Pack's Military Appreciation Day. For tickets and information, visit the Hartford Wolf Pack ticketing site or call 866-762-6451.
Back to All