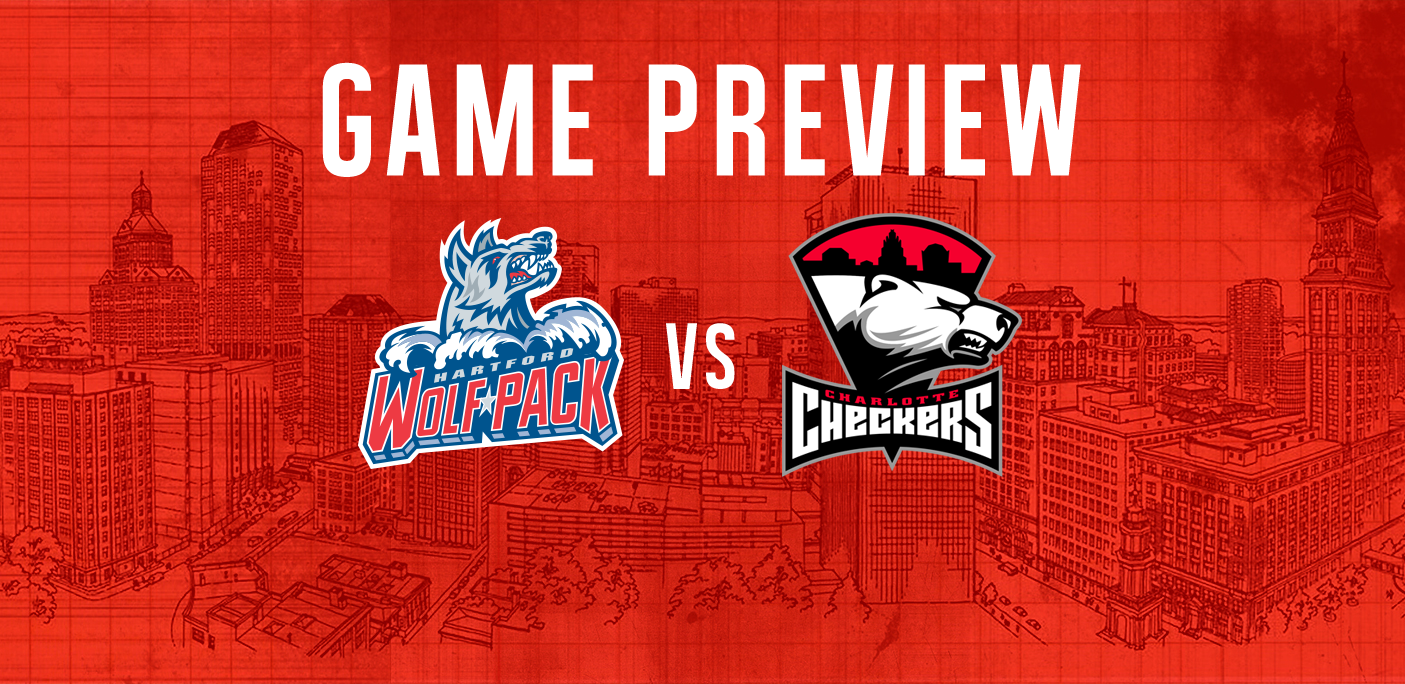 Game Preview
Feb 13, 2018
Game Day Info:
Hartford Wolf Pack vs. Charlotte Checkers
Puck Drop: Tuesday, February 13 at 7 p.m.
Game Preview:
Tonight's game serves as the Wolf Pack's first game ever at Bojangles' Coliseum. The only other two games the franchise has played in Charlotte were in 2010-11, when the Checkers played at Time Warner Cable Arena. The Connecticut Whale lost a pair of games that year to the Checkers, 5-1 on February 24 and 1-0 February 26. The Wolf Pack have won the last two head-to-head battles with the Checkers, after losing the first opening night, October 6, at the XL Center.
The Checkers (27-20-0-3, 57 pts., .570) have won three of their last four games, including a sweep of a two-game series with Springfield by a combined score of 12-2, and enter the week two points ahead of the Wolf Pack in the Atlantic Division standings in the last playoffs spot.
With recent transactions, Alexandar Georgiev, John Gilmour, Neal Pionk and Ryan Sproul have been reassigned to the New York Rangers. However, defensemen Brendan Smith and Sergei Zborovskiy have been assigned to the Wolf Pack. In addition, John Albert and Hubert Labrie were acquired in a trade and assigned to the Wolf Pack on February 9.
Last Time Out:
Last Saturday, the Wolf Pack played to a 5-2 win against the Hershey Bears. Cole Schneider, Eric Selleck, Ryan Sproul, Steven Fogarty and Scott Kosmachuk each scored. Brandon Halverson stopped 31 of 33 shots he faced to earn the win in his first AHL appearance of the 2017-18 AHL season. The Rangers' second round pick (59th overall) in the 2014 NHL Entry Draft appeared in 26 AHL games last season.
Thus far, the Pack are 24-20-4-3 on the season with a .539 win percentage, which places them sixth in the ultra-competitive Atlantic Division with 55 points from 51 games played. In fifth place right ahead of the Pack are the Bridgeport Sound Tigers, who have 53 points from 49 games played. The Wolf Pack have a ten-game point streak running, with a 9-0-1-0 record since January 19.
Players to Watch:
#72 Filip Chytil
Filip Chytil registered a point in all three Wolf Pack games last week (two goals, three assists in the three contests), and he posted back-to-back multi-point games on Feb. 9 at Syracuse (one goal, one assist) and Feb. 10 at Hershey (two assists). The Rangers' first round pick (21st overall) in the 2017 NHL Entry Draft extended his point streak to four games (two goals, four assists), and he has recorded a point in five of the last six games (two goals, six assists in the six contests). Overall, the rookie forward has tallied nine goals and 17 assists for 26 points in 29 games.
#19 Andrew Miller
Andrew Miller has totaled a league-leading 48 points this season with 15 goals and 33 assists in 50 games. Miller is currently in his second full season with the Checkers, and contributed 11 goals and 30 assists for 41 points in 55 games played last season, ranking him third amongst Checkers skaters. The 29-year-old forward has played in 15 NHL games with the Edmonton Oilers in the 2014-15 and 2015-16 seasons, where he tallied one goal and five assists for six points. The Oilers signed Miller as a free agent following his four-year collegiate career at Yale University where he captured the NCAA championship in 2013.
Coming Up Next:
The Pack will be back home at the XL Center for Hockey Heritage Weekend on February 23 and 24 to face the Hershey Bears and Providence Bruins. The first 5,000 fans to the game on February 24 get a Gordie Howe bobblehead, presented by Xfinity. For tickets and information, visit the Hartford Wolf Pack ticketing site or call 866-762-6451.
Back to All