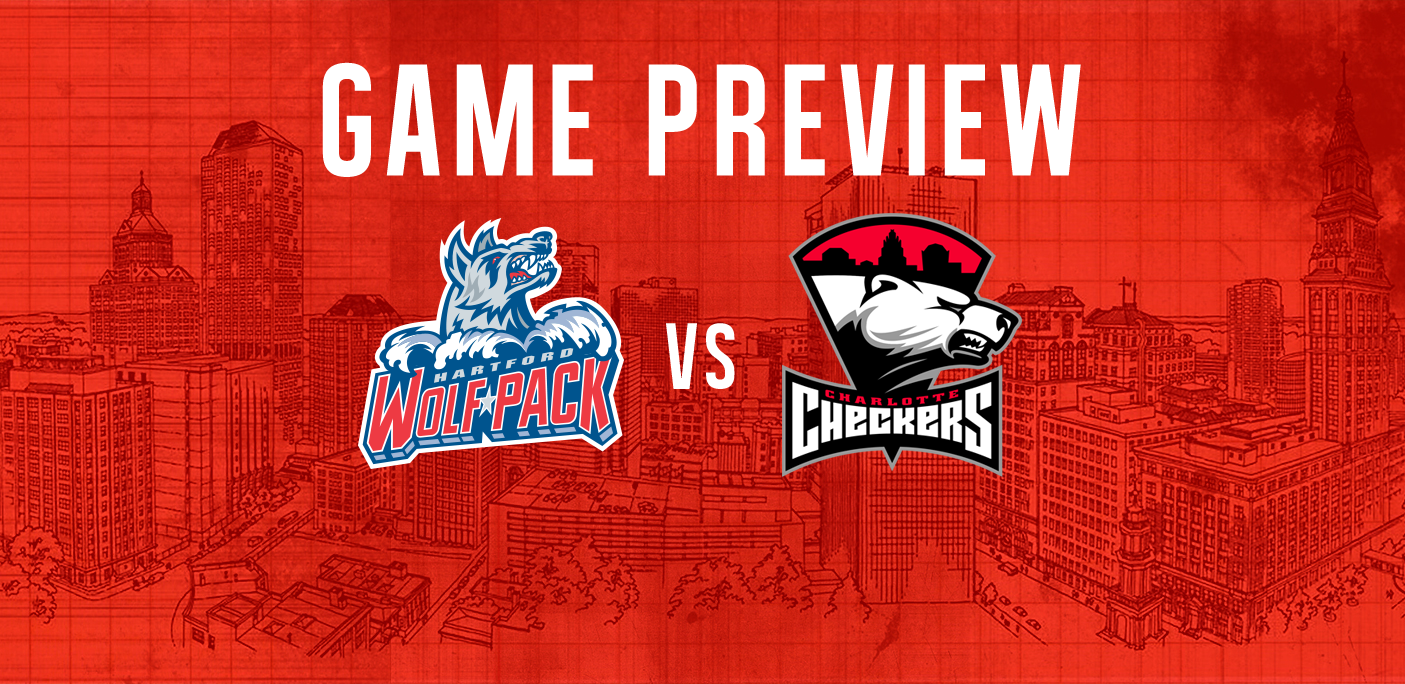 Game Preview
Jan 27, 2018
Game Day Info:
Hartford Wolf Pack vs. Charlotte Checkers
Puck Drop: Saturday, Jan. 27 at 7:30 p.m.
Game Preview:
This is the second get-together between the Hartford Wolf Pack and the Charlotte Checkers since the season's opening night, October 6, when Charlotte nipped the Wolf Pack 5-4 at the XL Center. That was the first time the two teams had seen each other since the Checkers' inaugural season in the AHL, 2010-11.
The Checkers (24-17-0-2, 50 pts., .581) have won three of their last five games, with their last win coming in the form of a 5-4 result in overtime on Sunday against the Rochester Americans. The team sits in fourth place in the Atlantic Division, behind the Wilkes-Barre/Scranton Penguins, Lehigh Valley Phantoms and Providence Bruins, respectively.
Last Time Out:
Last night, the Wolf Pack played to a 3-2 shootout win against the Checkers. Boo Nieves scored his third goal of the season while Adam Tambellini chipped in his eighth. Alexandar Georgiev got the starting nod in net again, where he made 21 saves and stopped two out of three in the shootout. On the Wolf Pack side, Adam Tambellini and Filip Chytil scored in the shootout.
Thus far, the Pack are 19-20-3-3 on the season with a .489 win percentage, which places them sixth in the ultra-competitive Atlantic Division with 44 points from 45 games played.
Players to Watch:
#72 Filip Chytil
In 23 games played, Filip Chytil has scored seven goals and notched 11 assists for a total of 18 points. The rookie forward competed for his native Czech Republic in the 2018 World Junior Championship where he skated in seven games, contributing two goals and two assists for four points. Chytil is the youngest player in the AHL and was drafted by the Rangers in the first round of the NHL draft this summer, at 21st overall.
#22 Andrew Poturalski
Andrew Poturalski has totaled for 27 points this season with 12 goals and 15 assists, including two assists last night. Poturalski led Charlotte's offense last season with 19 goals and 33 assists for a team-high 52 points. The 24-year-old center's point total ranked third in the AHL among all rookies and was the second-highest rookie total in Checkers history. Fans on Friday can look to the Wolf Pack's blue line to stifle Poturalski's production.
Coming Up Next:
The Pack take on the Providence Bruins at the Dunkin' Donuts Center on Friday, February 2 and then will be back home at the XL Center on Saturday, February 3 to take on the Providence Bruins in the second game of a back-to-back. For tickets and information, visit the Hartford Wolf Pack ticketing site or call 866-762-6451.
Back to All