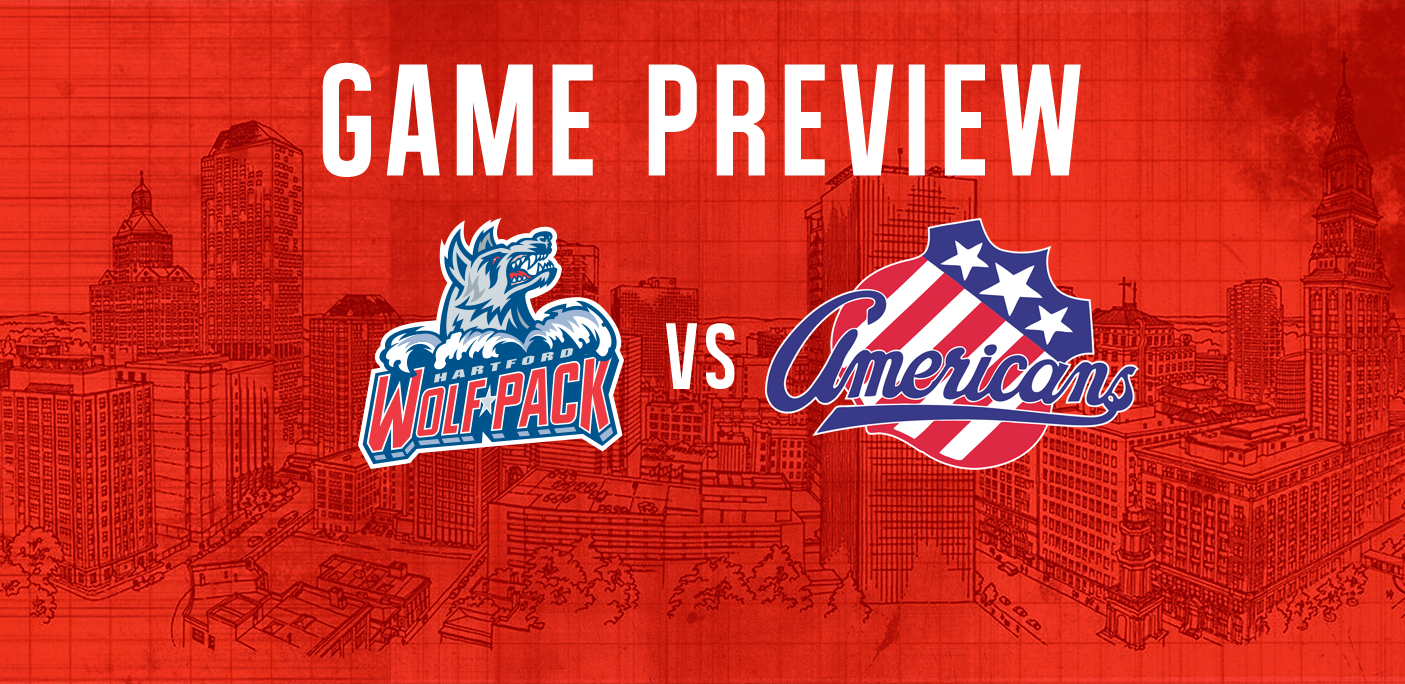 Game Preview
Dec 9, 2017
Game Day Info:
Hartford Wolf Pack vs. Rochester Americans
Puck Drop: Saturday, Dec. 9 at 7:30 p.m.
Game Preview:
This is the third meeting of the year between the Wolf Pack and Americans, and Rochester's first of two visits to the XL Center. In two clashes in Rochester this season, the Wolf Pack have posted a 4-2 loss November 17 and a 5-4 shootout victory last Friday.
The Americans, who sit in second place in the North Division, come into tonight's faceoff with a seven-game point streak. With a 13-5-3-2 record, Rochester has a 0.674 win percentage and boasts 11 players who are in double digits with points thus far this season.
Last Time Out:
Last night, the Wolf Pack played to a 4-3 shootout loss to the Providence Bruins at the Dunkin' Donuts Center. Hartford goals were provided by Cole Schneider and Ryan Graves. Schneider scored his fifth and sixth goals of the season, while Graves added his first goal of the season.
Thus far, the Pack are 8-12-3-2 on the season, which places them seventh in the ultra-competitive Atlantic Division with 21 points from 25 games played. The Providence Bruins currently lead the division with a 14-6-2-0 record, while the Lehigh Valley Phantoms and Charlotte Checkers fall close behind in the tight race.
Players to Watch:
#10 Cole Schneider
Cole Schneider will be playing against his former team, the Americans, for the third time tonight. In 25 games played, Cole Schneider has scored six goals, including two last night, and notched 13 assists for 19 points. The left wing is in his first season with the Wolf Pack, but he is no stranger to Connecticut, as he played collegiately for UConn. Schneider led the Rochester Americans last season in points (63), assists (39) and +/- (+9), and tied for fourth on team in PIM (45.)
#19 C.J. Smith
C.J. Smith has seven goals and 14 assists in 23 games for a team-high 24 points. The left wing signed a two-year, entry-level NHL contract as an undrafted free agent with the Buffalo Sabres on March 30, 2017. Smith registered one assist in two games for the Sabres in the 2016-17 season, following the completion of his junior season at UMass-Lowell.
Coming Up Next:
The Wolf Pack will be back home at the XL Center tomorrow for a matchup against the Springfield Thunderbirds. Tomorrow's game will serve as Sonar's birthday party and fans can expect to celebrate with a slew of visiting mascots, as well as more fun. For tickets and information, visit the Hartford Wolf Pack ticketing site or call 866-762-6451.
Back to All