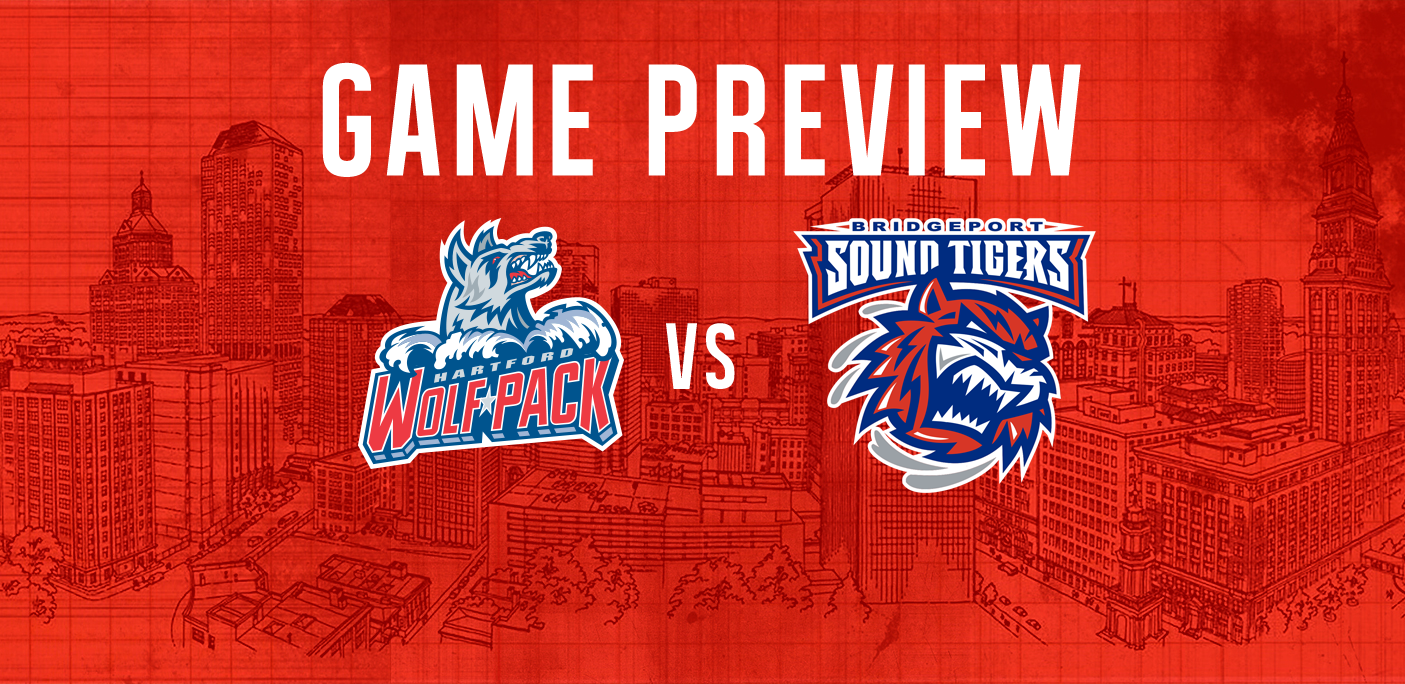 Game Preview
Nov 11, 2017
Game day info:
Hartford Wolf Pack vs. Bridgeport Sound Tigers
Puck Drop: Saturday, Nov. 11 at 7 p.m.
Game Preview:
After a 1-4-0-0 start, former Wolf Pack defenseman Brent Thompson's Sound Tigers have rolled to wins in five of their last seven games, including a 6-0 trouncing of the Providence Bruins in Providence last Sunday. Bridgeport most recently played to a 4-2 loss to the Lehigh Valley Phantoms on Wednesday night.
With a 6-6-0-0 record, the Sound Tigers sit in fifth place in the Atlantic Division, two spots ahead of the Wolf Pack. The rival team has 38 goals for and 34 against thus far in the season. The Wolf Pack are 0-2-0-0 in the season series vs. the Sound Tigers, with a 6-3 loss in Bridgeport October 22 and a 5-1 home defeat October 27.
Last Time Out:
Last Sunday, the Wolf Pack played to a 4-2 home win against the Springfield Thunderbirds. Three power play goals and four different goal scorers led the Pack to the win, with Dan DeSalvo, Vinni Lettieri, Scott Kosmachuk and Steven Fogarty finding the back of the net.
Thus far, the Pack are 5-7-0-1 on the season, which places them seventh in the ultra-competitive Atlantic Division, one spot ahead of the Springfield Thunderbirds. The Wilkes-Barre Scranton Penguins currently lead the division with an 8-2-0-0 record, while the Phantoms and Checkers fall close behind in the tight race.
Players to Watch:
#23 Adam Chapie
Wolf Pack general manager Chris Drury announced yesterday that the New York Rangers have reassigned forward Adam Chapie to the Wolf Pack from its ECHL affiliate, the Greenville Swamp Rabbits. Chapie, 26, a second-year pro out of U. Mass-Lowell, has a team-leading eight goals, good for a tie for second in the ECHL, and nine assists for 17 points in 11 games with the Swamp Rabbits this season. Chapie's point total ranks him second in the league. Chapie logged 24 games with the Wolf Pack last season, posting four assists and six penalty minutes.
#38 Sebastian Aho
Bridgeport rookie Sebastian Aho leads AHL defenseman in goals, with six. The Sweden native also has three assists, for a total of nine points, which is good enough for second on the team in points. Aho scored a hat trick in Bridgeport's 6-0 whopping of the Providence Bruins. The defender was drafted by the Islanders in the 2017 NHL draft at 139th overall.
Coming Up Next:
Tomorrow the Wolf Pack be back at the XL Center at 5 p.m. for a matchup with the Laval Rocket. For tickets and information, visit the Hartford Wolf Pack ticketing site or call 866-762-6451.
Back to All