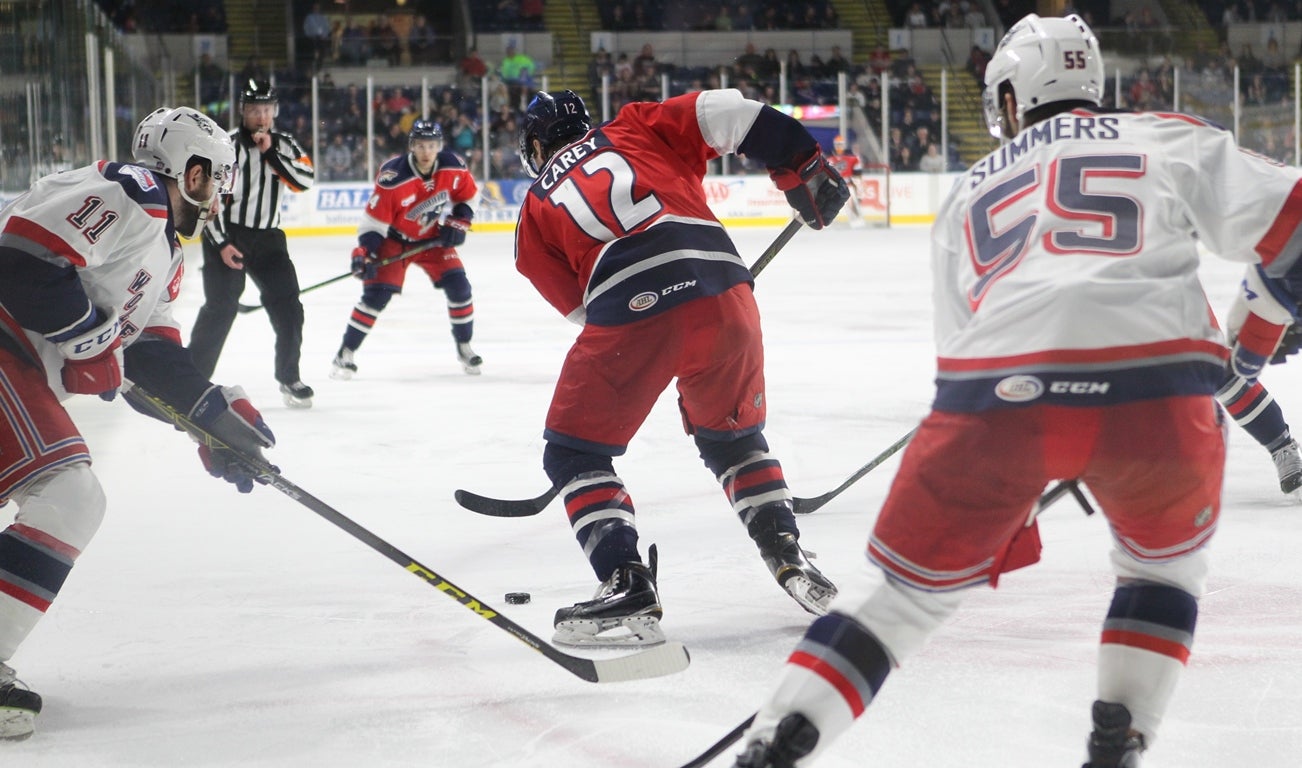 Diaz, Jensen Help Power Pack in Springfield
Feb 20, 2016
(Photo courtesy of Springfield Falcons)
Raphael Diaz and Nicklas Jensen had two goals and an assist each, and Chris McCarthy added a goal and two assists Saturday night at the MassMutual Center in Springfield, MA, as the Wolf Pack defeated the Springfield Falcons by a score of 7-2.
Luke Adam had three assists for Hartford, which also got a goal and an assist apiece from Travis Oleksuk and Nick Tarnasky. Magnus Hellberg made 19 saves in the Wolf Pack net. Craig Cunningham and Greg Carey had a goal and an assist each for Springfield.
The seven goals-scored was a season high for the Wolf Pack, who went 2-for-4 on power plays.
"It was a good team effort," said Diaz. "We went up 3-0, then they came back, 3-2, and then we took a penalty for four minutes, and I think this was the key point. The [penalty kill] was a great effort, we were blocking shots and it was a big kill. And after, we score, 4-2, 5-2 and it was pretty much over."
The only scoring of the first period came at 16:15, on the first Wolf Pack power play of the game.
With Ross Mauermann off for hooking, Diaz hammered a one-timer from the top of the slot. Falcon goaltender Josh Robinson (29 saves) made the stop, but the puck went up and over his shoulder and fell behind him. A goalmouth scramble ensued, and Oleksuk was eventually able to poke the puck into the net.
A pair of Diaz goals within 1:24 early in the second period would widen the Wolf Pack lead to 3-0.
Diaz found the net on a power play at 3:58, beating Robinson from the middle of the blue line through a screen set by Jensen.
"I think we were moving the puck," Diaz said of the power play's good night. "We were going behind the net, quick passes, I think that's the key. And shoot the puck and good things happen, like the first one. We were battling in front of the net, and I think that's the way to do it."
Then, at 5:22, Diaz would score again, from almost the same spot as his first goal. After Adam won a draw in the Falcon end, McCarthy worked the puck to Diaz high in the slot, and his snap shot got by the glove side of Robinson, who was making his first AHL appearance of the season.
The Falcon power play got Springfield on the scoreboard with 4:26 remaining in the period, with Carey increasing his team-leading goal total to 22. Phil Samuelsson fed the puck to Cunningham on the right-wing side, and he threaded it back across to Carey, who tapped it past Hellberg.
Another Falcon man advantage, on a high-sticking penalty to Jensen, carried over from the second period into the third, and the Springfield power play clicked again just 1:14 into the third session, cutting the Wolf Pack lead to 3-2.
This time it was Carey setting up Cunningham for the finish, as Carey passed from the right-wing side along the goal line to Cunningham between the hash marks, and Hellberg had no chance on Cunningham's quick shot.
Springfield was then afforded a great opportunity to tie the game, when Brady Skjei took a double-minor for high-sticking Phil Lane at 6:51. The Wolf Pack killed the four-minute penalty, though, and would explode for four goals in the final seven minutes of the third.
Jensen scored at the 13-minute mark to make it a 4-2 lead, taking a pass from Hrivik and moving out of the right-wing corner before snapping a perfect shot over Robinson's shoulder on the short side.
Just 1:44 after that, at 14:44, McCarthy scored his fifth of the year to make it 5-2, poking the puck under Robinson's right pad after he had stopped a close-in bid by Adam.
Springfield pulled Robinson in the closing minutes in a last-ditch effort to get back in the game, but Jensen foiled that strategy with an open-net goal at 18:42, assisted by Oleksuk.
The final goal of the night came with one second on the clock and was scored by Tarnasky, who took a feed from McCarthy and fired a 40-footer from the deep slot that beat Robinson through the legs.
The Wolf Pack are back on home ice at the XL Center Sunday afternoon, hosting the Binghamton Senators in a 3:00 game. It being a Sunday, fans can take advantage of the Wolf Pack's "Click It or Ticket Family Value Pack", which includes two tickets, two sodas and two hot dogs, all for just $35.
Tickets for all remaining 2015-16 Wolf Pack home games are on sale at the Agera Energy Ticket Office at the XL Center, on-line at www.hartfordwolfpack.com and by phone at (877) 522-8499.
To speak with a Wolf Pack representative about season or group tickets, or any of the Wolf Pack's many ticketing options, call (855) 762-6451, or click here to request more info.
Hartford Wolf Pack 7 at Springfield Falcons 2
Saturday, February 20, 2016 - MassMutual Center

Hartford 1 2 4 - 7
Springfield 0 1 1 - 2

1st Period-1, Hartford, Oleksuk 6 (Diaz, Adam), 16:15 (PP). Penalties-Summers Hfd (high-sticking), 7:06; Mauermann Spr (hooking), 15:01.

2nd Period-2, Hartford, Diaz 3 (Tambellini, Jensen), 3:58 (PP). 3, Hartford, Diaz 4 (McCarthy, Adam), 5:22. 4, Springfield, Carey 22 (Cunningham, P. Samuelsson), 15:34 (PP). Penalties-Mauermann Spr (tripping), 3:26; Nehring Hfd (fighting), 11:43; Delisle Spr (roughing, fighting), 11:43; Graves Hfd (interference), 14:49; Bunting Spr (high-sticking), 17:48; Jensen Hfd (high-sticking), 19:32.

3rd Period-5, Springfield, Cunningham 13 (Carey, Jeffrey), 1:14 (PP). 6, Hartford, Jensen 11 (Hrivik), 13:00. 7, Hartford, McCarthy 5 (Adam, Tarnasky), 14:44. 8, Hartford, Jensen 12 (Oleksuk), 18:42 (EN). 9, Hartford, Tarnasky 12 (McCarthy), 19:59. Penalties-Skjei Hfd (double minor - high-sticking), 6:51.

Shots on Goal-Hartford 8-17-11-36. Springfield 7-8-6-21.
Power Play Opportunities-Hartford 2 / 4; Springfield 2 / 5.
Goalies-Hartford, Hellberg 20-13-0 (21 shots-19 saves). Springfield, Robinson 0-1-0 (35 shots-29 saves).
A-4,374
Referees-Tim Mayer (19).
Linesmen-Luke Galvin (2), Frank Murphy (29).
Back to All