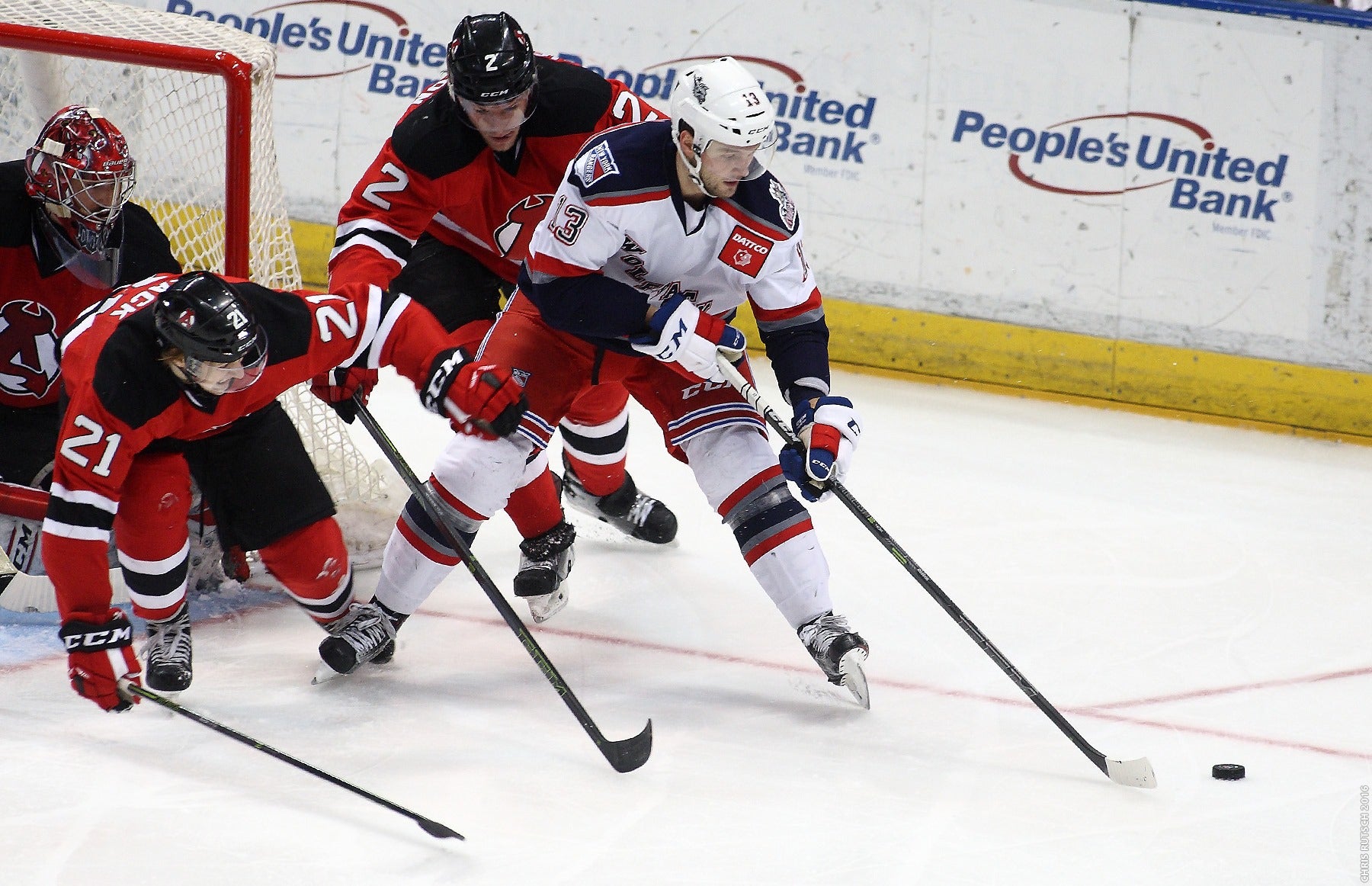 Danis Frustrates Pack again in Albany Win
Mar 29, 2016
Former Wolf Pack goaltender Yann Danis shut the Wolf Pack out for the third time on the season Tuesday night at the Times Union Center in Albany, NY, making 24 saves in a 3-0 Albany Devil win.
The loss was the second straight for the Wolf Pack, who fell to 36-29-3-0 (75 pts., .551 points percentage) and remained two points behind the Portland Pirates for the last playoff spot in the Eastern Conference.
Max Novak had the game-winning goal and an assist for the Devils, and Brian O'Neill and Paul Thompson also scored. Recce Scarlett had two assists. Magnus Hellberg made 31 saves in the Wolf Pack net.
"I think they just kept us to the outside," Wolf Pack captain Mat Bodie said of the Devils. "We didn't get a whole lot of traffic, didn't get a lot of shots through, and they made it pretty easy on their goaltender tonight."
The Devils got the only goal of the first period, Novak's third of the season, and it came at the 4:41 mark, as Novak deflected a shot from the left point by Marc-Andre Gragnani past Hellberg.
Albany doubled its lead at 13:58 of the second period, on another tipped shot. Novak worked the puck to Scarlett at the right point, and he one-timed it at the net. O'Neill, stationed just to Hellberg's right, re-directed the puck into the goal.
After being outshot by a combined margin of 25-13 in the first two periods, the Wolf Pack had an 11-9 advantage in the third, but couldn't solve Danis, and the Devils made it a three-goal lead at the 10:38 mark.
Chris Brown had a pass picked off just outside the Hartford blue line by Jim O'Brien, who broke past the Wolf Pack defense on a 2-on-0 with Thompson. O'Brien set up Thompson for a shot on which Hellberg had no chance.
"We've got to come out a lot stronger," Bodie said. "We're in a playoff push here and we can't really afford any more of those efforts. We've just got to play harder and be a little bit more hungry to score some goals."
The Wolf Pack's next game is at home this Friday, April 1, as the Hershey Bears visit the XL Center for a 7:15 PM game. That is the Wolf Pack's last Friday-night home game of the regular season, and the last chance for fans to enjoy $1 hot dogs and $2 beers through the start of the second period.
Tickets for all remaining 2015-16 Wolf Pack home games are on sale at the Agera Energy Ticket Office at the XL Center, on-line at www.hartfordwolfpack.com and by phone at (877) 522-8499.
To speak with a Wolf Pack representative about season or group tickets, or any of the Wolf Pack's many ticketing options, call (855) 762-6451, or click here to request more info.
Hartford Wolf Pack 0 at Albany Devils 3
Tuesday, March 29, 2016 - Times Union Center

Hartford 0 0 0 - 0
Albany 1 1 1 - 3

1st Period-1, Albany, Novak 3 (Gragnani, Scarlett), 4:41. Penalties-Geiger Alb (hooking), 11:47; Gibbons Hfd (slashing), 15:28; Curran Hfd (tripping), 18:20.

2nd Period-2, Albany, O'Neill 10 (Scarlett, Novak), 13:58. Penalties-Black Alb (delay of game), 1:56; Bodie Hfd (slashing), 18:55.

3rd Period-3, Albany, Thompson 13 (O'Brien), 10:38. Penalties-No Penalties

Shots on Goal-Hartford 5-8-11-24. Albany 11-14-9-34.
Power Play Opportunities-Hartford 0 / 2; Albany 0 / 3.
Goalies-Hartford, Hellberg 27-18-0 (34 shots-31 saves). Albany, Danis 27-10-0 (24 shots-24 saves).
A-2,754
Referees-Peter MacDougall (57), Terry Koharski (10).
Linesmen-Mike Emanatian (69), Frank Murphy (29).
Back to All