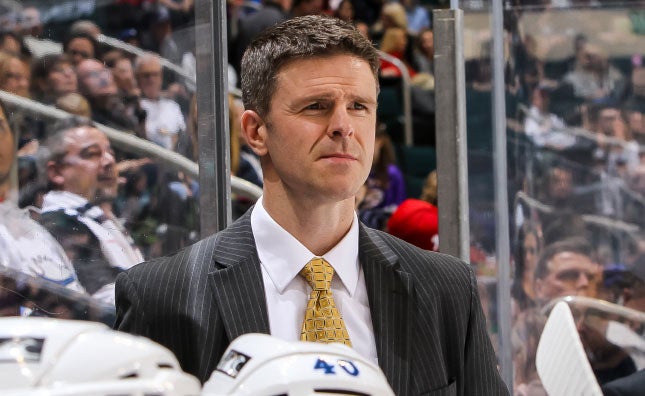 Crawford's Corner: McCambridge Adds Wealth of Experience to Pack Staff
Aug 3, 2016
(Photo courtesy of moosehockey.com)
By Bob Crawford
The average height of the Wolf Pack coaching staff went down slightly when the 6-2 Keith McCambridge took over the 6-5 Jeff Beukeboom's assistant coaching post, but the Pack also gained a bevy of AHL head coaching experience.
In fact, McCambridge has been an AHL head man for the last five seasons, all with the Winnipeg Jets' top affiliates, four years with the St. John's IceCaps and last season with the Manitoba Moose. Despite a tough campaign with the Moose last year, in which a very young club finished 26-41-9, McCambridge's overall AHL head-coaching record is 21 games over .500, 179-158-23-20. He also took the IceCaps on two deep playoff runs, getting as far as the Conference Finals in the franchise's first year, 2011-12, and then going all the way to the Calder Cup Finals in 2013-14. McCambridge's club lost that Final series to the Texas Stars in five games, but it easily could have gone the other way, as each of the IceCaps' last three losses was in OT.
Like Beukeboom, McCambridge was a rough-and-tumble defenseman as a player, and he logged nearly 400 games on various AHL blue lines. That included stints with the Saint John Flames and Providence Bruins, time during which McCambridge would have done battle with his new boss, current Wolf Pack head coach, and then-Pack captain, Ken Gernander.
The Thompson, Manitoba-born McCambridge also has previous AHL assistant-coaching experience, having spent two years as an assistant on the Moose staff before that franchise was moved to St. John's to become the IceCaps. His head man during the first of those two seasons was Scott Arniel, currently the parent New York Rangers' associate coach. McCambridge has also been a head coach and an assistant in the ECHL, where he helmed the Alaska Aces to the third round in 2007-08, as a rookie head coach, and to the finals the next year.
Bringing McCambridge in represents a bit of a new direction for the organization, as his addition represents the first time the Wolf Pack have had an assistant coach hired with previous AHL head coaching experience. Nick Fotiu had been a head man in the ECHL previous to joining the Wolf Pack as an assistant in 2002, but had never run an AHL bench.
Back to All