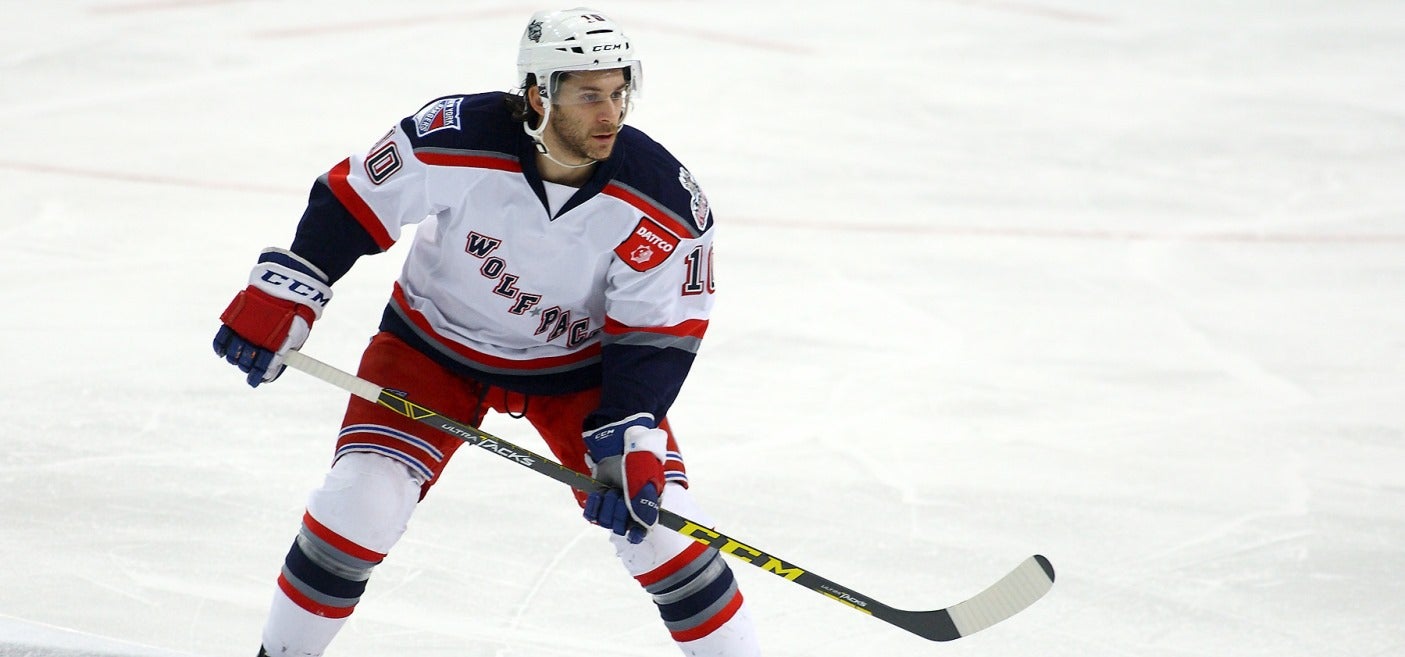 Bruins Best Pack, 4-2
Dec 13, 2015
The Wolf Pack battled back from an early 2-0 deficit Sunday at the Dunkin' Donuts Center Providence, but ultimately fell short against the Providence Bruins, losing 4-2.
The defeat ended a three-game weekend for the Wolf Pack, who dropped a 3-1 decision to the Bruins Friday in Providence and bested Bridgeport 4-2 Saturday night at home.
Luke Adam scored a five-on-three power-play goal for the Wolf Pack late in the second period, and Brian Gibbons tied the game with a shorthanded goal, but the Bruins' Colton Hargrove got the power-play game-winner for Providence only 30 seconds after Gibbons' goal.
"Tough start," Adam said. "I thought the guys battled pretty hard, three-in-three, two games on the road, but at the same time, that's a team we've got find a way to beat, and we can't be satisfied with just the effort."
Brandon DeFazio and Seth Griffith added a goal and an assist each for the Bruins, and Anton Blidh scored an empty-net goal.
Providence got the jump on the Wolf Pack with a strong first period, scoring twice in the game's first 6:40.
On the game's first power play, with Ryan Graves in the penalty box for tripping, Griffith opened the scoring with his eighth goal of the season. Wolf Pack goaltender Magnus Hellberg (29 saves) stopped a shot from the right circle, but the rebound came to Griffith on the left side and he buried it.
Just 2:16 later, DeFazio made it a 2-0 Bruin lead, after Austin Czarnik worked the puck away from the Wolf Pack's Brady Skjei at the side of the Pack net. Czarnik fed in front to DeFazio, and Hellberg had no chance on DeFazio's close-in shot.
The Wolf Pack had a big chance to change the momentum late in the period with 1:02 of five-on-three power play, but were unable to capitalize.
Hartford did take advantage of another five-on-three, though, for the only goal of the second period. Anthony Camara was hit with a major charging penalty, and a game misconduct, for a late hit on Adam Tambellini at 18:24, and Ben Youds was called for high-sticking 15 seconds later.
That gave the Wolf Pack a two-minute two-man advantage, and Adam made the Bruins pay with 58.1 seconds left in the period. Gibbons centered the puck from along the goal line on the right-wing side and Adam banged it past Bruin netminder Zane McIntyre (24 saves).
Providence killed the rest of Camara's major in the third period, and then both teams scored while the Wolf Pack's Marek Hrivik was in the box for tripping.
Gibbons tied it at two at 7:18, with the Wolf Pack's third shorthander in two games. Gibbons carried down the right side into the Providence zone and fed across toward Jayson Megna. The pass was deflected, but Megna was able to slide the puck back into the middle, and Gibbons tapped it into the net.
Hargrove put the Bruins right back in front at 7:48, though, receiving a cross-slot pass from Zack Phillips at the right-wing side of the goal mouth and firing close range shot up under the crossbar.
The Wolf Pack could not recover from that, and Blidh iced the game with 33.8 seconds left and Hellberg on the bench for an extra attacker.
The Wolf Pack's next action is this Friday, December 18, when they continue a stretch of five straight road games with a visit to Rochester to take on the Americans. Faceoff is 7:05 PM, and all of the action can be heard live on-line at www.979espn.com and on iHeartRadio. Video streaming is available at www.ahllive.com.
The Wolf Pack's next home game is Tuesday, December 29th, when the Wolf Pack host the Portland Pirates in a 7:00 game. That is Scout Night at the XL Center. Scout groups that reserve in advance receive discounted tickets and special Scout Night patches.
Tickets for all 2015-16 Wolf Pack home games are on sale at the Agera Energy Ticket Office at the XL Center, on-line at www.hartfordwolfpack.com and by phone at (877) 522-8499.
To speak with a Wolf Pack representative about season or group tickets, or any of the Wolf Pack's many ticketing options, call (855) 762-6451, or click here to request more info.
Hartford Wolf Pack 2 at Providence Bruins 4
Sunday, December 13, 2015 - Dunkin' Donuts Center

Hartford 0 1 1 - 2
Providence 2 0 2 - 4

1st Period-1, Providence, Griffith 8 (DeFazio, Youds), 4:24 (PP). 2, Providence, DeFazio 6 (Czarnik, Khokhlachev), 6:40. Penalties-Graves Hfd (tripping), 3:34; Simonelli Pro (holding the stick), 17:22; Blidh Pro (slashing), 18:21.

2nd Period-3, Hartford, Adam 4 (Gibbons, Bodie), 19:01 (PP). Penalties-Hughes Hfd (hooking), 8:25; Adam Hfd (tripping), 12:34; Griffith Pro (tripping), 13:43; Camara Pro (major - charging, game misconduct - charging), 18:24; Youds Pro (high-sticking), 18:39.

3rd Period-4, Hartford, Gibbons 5 (Megna), 7:18 (SH). 5, Providence, Hargrove 4 (Cherniwchan, Phillips), 7:48 (PP). 6, Providence, Blidh 6 (Griffith), 19:26 (EN). Penalties-Gibbons Hfd (holding), 2:53; Hrivik Hfd (tripping), 6:23; Adam Hfd (tripping), 15:35.

Shots on Goal-Hartford 8-7-11-26. Providence 12-13-8-33.
Power Play Opportunities-Hartford 1 / 5; Providence 2 / 6.
Goalies-Hartford, Hellberg 8-8-0 (32 shots-29 saves). Providence, McIntyre 5-4-0 (26 shots-24 saves).
A-6,005
Referees-Jake Brenk (42), Chris Schlenker (23).
Linesmen-Brandon Gawryletz (64), Daniel Panciocco (36).
Back to All